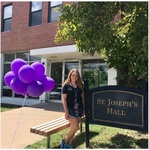 Title
Introduction
Hi, my name is Morgan Murphy, and I am a senior studying Speech-Language Pathology, with a minor in Psychology. First off, I'd like to welcome you to my TELOS portfolio! I am so glad you are here. To begin, I'd like to give you a bit of background information about myself and where I am in life after attending Fontbonne University for these past four years. As an incoming freshman in 2017, I was not the same person that is sitting here writing this statement to you right now. During my time at Fontbonne, I went through a lot of personal change and growth. It feels almost impossible to express how much Fontbonne has impacted my life in just a short introduction. So, I hope to use the following portfolio to give you a glimpse into specific moments during my undergraduate college career that have shaped me into the person that I am today.
Through the TELOS Honors program, I discovered more about myself than I thought I ever would, during my time at Fontbonne. I have been transformed. I have explored a variety of routes and paths. I became a student leader. I had wonderful clinical experiences that will help me in my future career. I served others and spoke my truth on social justice issues. This program has helped me to get to know myself for who I truly am. I was able to sit down, reflect and express how my life has changed, whether in good or bad ways, during my time in college. Without this program, I am not sure if I would be able to see how far I have really come over these past four years. I went from being the nervous and shy freshman to the outgoing and leading senior that I am today. It is truly incredible to take a moment and step back and look at your life from a bird's eye view. It is amazing what one can learn about themselves after reflecting on their life's journey. As I am about to graduate and move on to the next chapter in my life, I hope this collection of reflections and artifacts can show you where I was and where I am now. Growth and change are not always easy, but it is remarkable what can happen if you live your life taking advantage of all of the beautiful opportunities that come your way. I wish to not only tell you my story through this portfolio, but I hope to also encourage you to push yourself out of your comfort zone, like I did. If you never do, you will never know what your life truly has in store for you.
Department
Communication Disorders and Deaf Education
Degree Name
Bachelor of Science (BS)
Degree Program
Speech-Language Pathology
Publication Date
Spring 2021
Publisher
Fontbonne University Archives
Creative Commons License


This work is licensed under a Creative Commons Attribution-Noncommercial-No Derivative Works 4.0 License.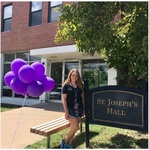 COinS