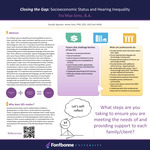 Faculty Advisor
Jenna Voss
Description
For children who are deaf/hard of hearing (DHH) to learn to listen and talk, they need consistent, optimal access to sound (LSL, 2022). This is achieved using properly fit hearing technology (CIs, HAs, etc.). It has been found that individuals of lower socio-economic status (SES) have less access to hearing technology, less knowledge about the device use, and subsequently poorer listening/spoken language outcomes than their more affluent counterparts. Speech-language pathologists who serve these children and families must learn the specific needs of each client and their family for the most effective outcome. Regardless of socioeconomic status or background, parents play a major role in the development of their children. For children who are deaf or hard of hearing (DHH), parent involvement is vital to ensure children consistently use their hearing technology in order to develop listening and spoken language skills. It is important that practitioners support low SES parents by using appropriate language, provide models of device use, and emphasize the importance of wearing the hearing device in all settings. Thus, families from low SES backgrounds can benefit from the support of practitioners, including speech language pathologists (SLPs), who provide information and resources to achieve consistent device use.
Keywords
Deaf hard of hearing, DHH, Low socio-economic status, Socio-economic status, Family
Disciplines
Communication Sciences and Disorders | Speech and Hearing Science | Speech Pathology and Audiology
Presentation Type
Poster Presentation
College
College of Education and Allied Health
Department
Communication Disorders and Deaf Education
Degree Name
Master of Science (MS)
Degree Program
Speech-Language Pathology
Publication Date
Spring 2023
Publisher
Fontbonne University Archives
Recommended Citation
Sims, Tra'Mya, "Closing the Gap: Socioeconomic Status and Hearing Inequality" (2023). 2023 SLP Posters. 44.
https://griffinshare.fontbonne.edu/slp-posters-2023/44
Creative Commons License


This work is licensed under a Creative Commons Attribution-Noncommercial-No Derivative Works 4.0 License.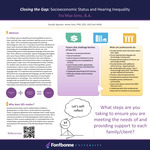 COinS