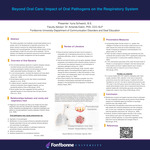 Faculty Advisor
Amanda Eaton
Description
The elderly population and medically compromised patients are at greater risk for the development of aspiration pneumonia. This poster intends to examine the relationships between oral dysbiosis and lung pathogenesis. The basic dental science of how oral pathogens invade the oral cavity will be explained. The link between oral disease and aspiration pneumonia will be discussed. Attention to oral health management will also be applied.
Keywords
Oral health, Oral hygiene, Oral pathogens, Oral bacteria, Respiratory system, Oral dysbiosis, Lung pathogenesis, Oral cavity, Respiratory tract, Aspiration pneumonia, Pneumonia, Elderly
Disciplines
Communication Sciences and Disorders | Speech and Hearing Science | Speech Pathology and Audiology
References
Aquino-Martinez, R., & Hernández-Vigueras, S. (2021). Severe covid-19 lung infection in older people and periodontitis. Journal of Clinical Medicine, 10(2), 279. https://doi.org/10.3390/jcm10020279
Dong, J., Li, W.,Wang, Q., Chen, J., Zu, Y., Zhou, X., & Guo, Q. (2022). Relationships between oral microecosystem and respiratory diseases. Frontiers in Molecular Biosciences, 8. https://doi.org/10.3389/fmolb.2021.718222
Georges, F. M., Do, N. T., & Seleem, D. (2022). Oral dysbiosis and systemic diseases. Frontiers in Dental Medicine. https://doi.org/10.3389/fdmed.2022.995423
Gomes-Filho, I. S., Passos, J. S., & Seixas da Cruz, S. (2010). Respiratory disease and the role of oral bacteria. Journal of Oral Microbiology, 2(1), 5811. https://doi.org/10.3402/jom.v2i0.5811
Kapila, Y. L. (2021). Oral Health's inextricable connection to systemic health: Special populations bring to bear multimodal relationships and factors connecting periodontal disease to systemic diseases and conditions.Periodontology 2000, 87(1), 11–16. https://doi.org/10.1111/prd.12398
Lim, M. A. W. T. (2018, November 3). Basic oral care for patients with dysphagia. A Special Needs Dentistry perspective. Journal of Clinical Practice in Speech-Language Pathology. https://www.researchgate.net/publication/330926503
Lu, M., Xuan, S., & Wang, Z. (2019). Oral microbiota: A new view of Body Health. Food Science and Human Wellness, 8(1), 8–15. https://doi.org/10.1016/j.fshw.2018.12.001
Pace, C. C., & McCullough, G. H. (2010). The association between Oral Microorganisms and aspiration pneumonia in the institutionalized elderly: Review and recommendations. Dysphagia, 25(4), 307–322. https://doi.org/10.1007/s00455-010-9298-9
Pu, C. Y., Seshadri, M., Manuballa, S., & Yendamuri, S. (2020). The oral microbiome and Lung Diseases. Current Oral Health Reports, 7(1), 79–86. https://doi.org/10.1007/s40496-020-00259-1 .
Presentation Type
Poster Presentation
College
College of Education and Allied Health
Department
Communication Disorders and Deaf Education
Degree Name
Master of Science (MS)
Degree Program
Speech-Language Pathology
Publication Date
Spring 2023
Publisher
Fontbonne University Archives
Recommended Citation
Schwartz, Iryna, "Beyond Oral Care: Impact of Oral Pathogens on the Respiratory System" (2023). 2023 SLP Posters. 43.
https://griffinshare.fontbonne.edu/slp-posters-2023/43
Creative Commons License


This work is licensed under a Creative Commons Attribution-Noncommercial-No Derivative Works 4.0 License.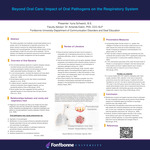 COinS