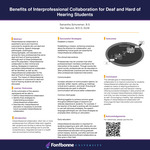 Faculty Advisor
Dan Salvucci
Description
Interprofessional collaboration is essential to serve and maximize outcomes for students who are deaf and hard of hearing. Speech-language pathologists, audiologists, otolaryngologists, and educators are among the many professionals that serve deaf and hard of hearing students. Although each of these professionals serve this population, interprofessional collaboration is often minimal and lacking. Strategies to implement successful interprofessional collaboration will be identified, as well as why interprofessional collaboration for the deaf and hard of hearing population is crucial. The impact of interprofessional collaboration on outcomes for deaf and hard of hearing students will also be discussed.
Keywords
Interprofessional collaboration, Student outcomes, Speech-language pathologists, Audiologists, Otolaryngologists, Educators, Deaf, Hard of hearing
Disciplines
Communication Sciences and Disorders | Speech and Hearing Science | Speech Pathology and Audiology
References
Blaiser, K. M., & Nevins, M. E. (2017). Practitioner reflection that enhances interprofessional collaborative practices for serving children who are deaf/hard-of-hearing. Perspectives of the ASHA Special Interest Groups, 2(9), 3–9. https://doi.org/10.1044/persp2.sig9.3
Brown, T. M., Baas, B. S., Stoeckel, R. E., Belf, L. A., & Poling, G. L. (2021). Assessment of children with hearing loss and co-occurring medical disorders: Challenging cases. Perspectives of the ASHA Special Interest Groups, 6(2), 375–383. https://doi.org/10.1044/2021_persp-20-00080
Bruce, S. M., & Bashinski, S. M. (2017). The TRIFOCUS framework and Interprofessional Collaborative Practice in severe disabilities. American Journal of Speech-Language Pathology, 26(2), 162–180. https://doi.org/10.1044/2016_ajslp-15-0063
Gilbert, J. H. V., Yan, J., & Hoffman, S. J. (2010). A WHO Report: Framework for Action on Interprofessional Education and Collaborative Practice. Journal of Allied Health, 39(3), 196–197.
Kahaleh, A. A., Danielson, J., Franson, K. L., Nuffer, W. A., & Umland, E. M. (2015). An interprofessional education panel on development, implementation, and assessment strategies. American Journal of Pharmaceutical Education, 79(6), 78. https://doi.org/10.5688/ajpe79678
Messersmith, J. J., & Brouwer, K. (2012). Student perspectives of an interdisciplinary approach to clinical provision and supervision. Perspectives on Issues in Higher Education, 15(1), 38–43. https://doi.org/10.1044/ihe15.1.38
Shrader, S., Hodgkins, R., Laverentz, D., Zaudke, J., Waxman, M., Johnston, K., & Jernigan, S. (2016). Interprofessional Education and practice guide no. 7: Development, implementation, and evaluation of a large-scale required Interprofessional Education Foundational Programme. Journal of Interprofessional Care, 30(5), 615–619. https://doi.org/10.1080/13561820.2016.1189889
Smith, R., Byrne, N., & Barr, M. (2018). Speech-language pathologists and audiologists working with deaf or hard of hearing clients in Australia. Journal of Clinical Practice in Speech-Language Pathology, 20(2), 83–88.
Van Hyfte, S., & Gritt, A. (2020). AUD-SLP Partnership to support children with CIS. The Hearing Journal, 73(11). https://doi.org/10.1097/01.hj.0000722516.00118.66
Wilson, K., Nevins, M. E., & Houston, K. T. (2010). Professional development for in-service practitioners serving children who are deaf and hard of hearing. The Volta Review, 110(2), 231–247. https://doi.org/10.17955/tvr.110.2.m.642
Wray, D., & Flexer, C. (2010). University of Akron: Training Speech- Language Pathology Specialists to Provide Quality Service to Children who are Deaf or Hard of Hearing - A Collaborative Preservice Program. The Volta Review, 110(2), 305–313.
Presentation Type
Poster Presentation
College
College of Education and Allied Health
Department
Communication Disorders and Deaf Education
Degree Name
Master of Science (MS)
Degree Program
Speech-Language Pathology
Publication Date
Spring 2023
Publisher
Fontbonne University Archives
Recommended Citation
Schuneman, Samantha, "Benefits of Interprofessional Collaboration for Deaf and Hard of Hearing Students" (2023). 2023 SLP Posters. 42.
https://griffinshare.fontbonne.edu/slp-posters-2023/42
Creative Commons License


This work is licensed under a Creative Commons Attribution-Noncommercial-No Derivative Works 4.0 License.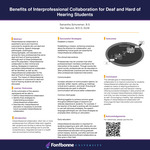 COinS