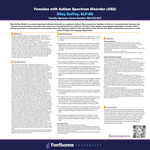 Faculty Advisor
Aaron Doubet
Description
The American Speech-Language and Hearing Association (ASHA) states that social communication deficits can be present alongside a wide variety of diagnoses and are characterized by the difficulties in the usage of language in social contexts, which can affect language expression and comprehension ("Autism spectrum disorder," n.d.). "Research reveals that males are 4 times more likely to receive a diagnosis of ASD compared to females" (Fletcher, 2022). The criteria for diagnosis are viewed in terms based on a male's inability to present appropriate social communication and pragmatic skills. This oftentimes leads to missed or inaccurate diagnoses for females. The literature reviewed will provide research on differences between males and females- their social communication deficits, how those deficits are perceived by others, and how this impacts the diagnosis itself. By recognizing the unique characteristic differences between the two genders, females will have more opportunity for an accurate and timely diagnosis, along with treatment options best suitable for them.
Keywords
Autism Spectrum Disorder, ASD, Neurodevelopmental disorder, Diagnosis, Screening tools, Gender, Females
Disciplines
Communication Sciences and Disorders | Speech and Hearing Science | Speech Pathology and Audiology
Presentation Type
Poster Presentation
College
College of Education and Allied Health
Department
Communication Disorders and Deaf Education
Degree Name
Master of Science (MS)
Degree Program
Speech-Language Pathology
Publication Date
Spring 2023
Publisher
Fontbonne University Archives
Recommended Citation
Guffey, Riley, "Females with Autism Spectrum Disorder (ASD)" (2023). 2023 SLP Posters. 23.
https://griffinshare.fontbonne.edu/slp-posters-2023/23
Creative Commons License


This work is licensed under a Creative Commons Attribution-Noncommercial-No Derivative Works 4.0 License.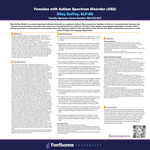 COinS