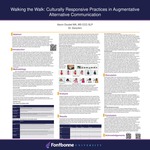 Faculty Advisor
Jamie Doronkin
Description
For many Americans, the ability to communicate effortlessly is an impossibility. For these individuals, the provision of Augmentative Alternative Communication (AAC) is of utmost importance. This current pilot study addressed the cultural representations present within stock AAC systems. The pilot study focused on two research questions: If I quantitatively and qualitatively analyze the iconography of AAC systems, in what ways, if any, will the information inform the researcher of potential cultural mismatches evident within the factory stock iconographic programming? If I analyze AAC devices using a deductive qualitative coding scheme, in what ways, if any, will this inform the researcher about the nature of cultural representations within AAC devices in factory stock programming?
Presentation Type
Poster Presentation
College
College of Education and Allied Health
Program
Collaborative High Impact Instruction
Disciplines
Curriculum and Instruction | Education | Educational Assessment, Evaluation, and Research
Publisher
Fontbonne University Archives
Keywords
Culture, Race, Gender, Representation, Critical Theory, Augmentative and Alternative Communication
Recommended Citation
Doubet, Aaron M., "Walking the Walk: Culturally Responsive Practices in Augmentative Alternative Communication" (2022). 2022 Projects. 3.
https://griffinshare.fontbonne.edu/edd-projects-2022/3
Creative Commons License


This work is licensed under a Creative Commons Attribution-Noncommercial-No Derivative Works 4.0 License.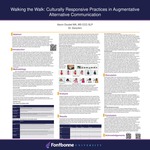 COinS