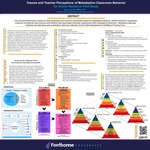 Faculty Advisor
Jamie Doronkin
Description
This mixed method action research study examined how teachers interpreted student's maladaptive behavior, whether teachers recognized evidence of students' past traumas and whether they associated traumatic experiences with maladaptive behaviors. Qualitative data was collected via interviews and quantitative data was collected via the Feifer Assessment of Childhood Trauma Form.
Presentation Type
Poster Presentation
College
College of Education and Allied Health
Disciplines
Curriculum and Instruction | Education | Educational Assessment, Evaluation, and Research
Publisher
Fontbonne University Archives
Keywords
Maladaptive Classroom Behavior, Misbehavior, Trauma, Feifer Assessment
Recommended Citation
Griffin, Keona, "Trauma and Teacher Perceptions of Maladaptive Classroom Behavior: An Action Research Pilot Study" (2022). 2022 Projects. 1.
https://griffinshare.fontbonne.edu/edd-projects-2022/1
Creative Commons License


This work is licensed under a Creative Commons Attribution-Noncommercial-No Derivative Works 4.0 License.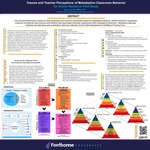 COinS