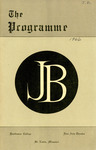 Title
Performance Dates
November 17, 18, 19, 20, 1966
Description
Two unemployed actors, one old, the other young -- Mr. Zuss and Nickles -- have been reduced to selling balloons and popcorn in an ancient circus which has traveled through the towns and cities of the earth, year after year, time out of mind, playing the Old Testament story of the sufferings of Job.
Dissatisfied, as actors often are, with the interpretation of the story, they make up their minds, late one evening when the show is over and the tent empty, to play it themselves as they think it should be played. Mr. Zuss casts himself as God. Nickles is cast as Satan. And the two take on themselves the wager of the Book Of Job: Satan's wager that if God will strip Job of everything he has, Job, the perfect and upright man, will curse God to His face.
And so they begin. But hardly has the action started when the old circus and the ancient tale prove to have a life and movement of their own. The Godmask and the Satanmask found in a battered wardrobe speak the lines of the Bible for themselves when an unseen prompter gives them their cues. And when the time arrives for Job to appear with his wife and children he is not called: he comes.
But it is not out of the Old Testament that Job appears to Mr. Zuss and Nickles but out of the American present -- J.B. not Job. And the Messengers Nickles sends to him to report the terrible disasters which are to try his soul are present messengers -- a pair of circus roustabouts dressed first as soldiers, then as newspaper reporters, then as traffic policemen, then as air-raid wardens. Also, the disasters they report, one after the other, are present disasters -- disasters which have occurred. And the Comforters, when at last they come, are modern comforters.
As for the end of the play, it belongs neither to Nickles nor to Mr. Zuss, but, as in the Book Of Job itself, to the courage of a woman and a man.
Archibald MacLeish
Publisher
Fontbonne University Archives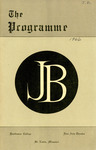 COinS
Rights Statement