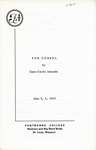 Title
Performance Dates
May 5, 6, 1967
Description
Early in 1950 a new milestone was added to the his- tory of the theatre when a full-length opera became a smash hit on Broadway. Mr. Menotti, however, does not call "The Consul." an opera. He terms it a "musical drama." By this he makes a distinction between the traditional opera with its recitatives and set arias. His prime purpose is to tell a story and intensify it with music.
Menotti has taken a universal problem -- the problem of the physically disrupted and the geographically dispossessed. The action takes place somewhere in Europe. It is evident that the place is an iron- curtain country. The scenes are alternately in the shabby flat of a workman and the reception room of a consulate, obviously that of a free country. The workman, John Sorel, and his wife Magda are fighting against unnamed sinister forces; they are subjected to espionage and hounded by fear. John man- ages to escape the secret police and crosses the border to a free country, where he waits for his wife and baby. Magda calls daily at the consulate in an effort to get a visa which will permit her to leave the country and start a new life with her husband.
It is a nightmare world which Magda Sorel inhabits -- a world in which her dream-nightmares are scarcely more terrifying that the nightmares of every day. Her life becomes intricately involved with those of other displaced persons: the dignified and pathetic Mr. Kofner; an Italian woman; Anna Gomez; Vera Boronel; Nika Magadoff, the magician. The drama ends in tragedy, when Magda is refused a visa. Her child dies and the mother is unable to survive. Magda herself chooses death rather than submission and in a final nightmare has one last vision of her- self joining her husband, his mother, and all the tortured people in another and freer world.
Publisher
Fontbonne University Archives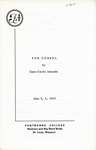 COinS
Rights Statement