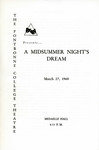 Performance Dates
March 27, 1960
Director
Carmelita T. Schmelig
Description
The Fontbonne College Theatre Presents...A MIDSUMMER NIGHT'S DREAM
March 27, 1960. MEDAILLE HALL 8:15 P.M.
PRODUCTION NOTE
Tonight as the second experimental production of the Fontbonne College Theatre's 1959-60 season, we have chosen to present Shakespeare's A MIDSUMMER NIGHTS DREAM in the medium of arena staging. Theatre-in-the-Round dates back to the sixth century B. C. (The Greek Theatre employed a central playing area which the spectators surrounded.) The effect of arena' staging is of a more intimate physical relationship between the actor and the spectator, causing the action to seem more like "living scultpure than a framed picture."
This youthful and romantic comedy takes place not in midsummer, as the title might suggest, but about May Day. The title alludes to the "gay madness proverbially associated with the rites of Midsummer's Eve or those of May Day." 'This fantasy of folklore and fairies has the qualities of the masque, a favorite form of light enter- tainment at court or at celebrations in the houses of the nobility, and is Shakespeare's nearest approach to that form of spectacle in which Ben Jonson became a master. In the book entitled The Court Masque, Enid Welsford says, "'the drama is a story with crisis and dénouement; the masque is an invention moving upon a hinge . . . it is the logical working out of an idea which has to be taken for granted." The masque was an elaborate show that emphasized spectacular elements, costume, and scene devices rather than dramatic plot and poetry. Music, dancing, and pageantry were its con- comitants. It had allegorical figures and other creatures of fancy who sang, danced, and paraded before the guests. These creatures had as foils a contrasting group known as the antimasque, who could be anything from satyrs to earthly yokels.
It was this relationship to the masque that served as the basis for our experiment this evening. The intimate form of staging, the original music with the atmosphere of the modern musical comedy, the adaption of portions of the script into the modern conversational idioms, and the use of costumes suggested by the Elizabethan style with the Greek motif for the royal inhabitants of Athens all definitely were designed for spectacle and entertainment and were not meant to be authentic. However, although the relationship of this play to the spirit of the masque is obvious, it is also obvious that Shaksepeare transcended the conventions of the masque and wrote a poetic drama (retained particularly in this experiment in the passages of Puck, the Fairies, and in the love scenes), not merely a spectacle that would be forgotten after one performance. He wrote a commentary on life and love, a treatment of the "whimsical and irresponsible aspects of love and of the midsummer madness that has no explanation except the whims of men and women or the deviltry of Robin Goodfellow." (Additional ref.: Folger Library General Reader's Shakespeare).
Publisher
Fontbonne University Archives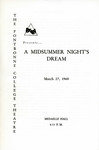 COinS
Rights Statement