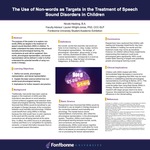 Faculty Advisor
Lauren Wright-Jones | PhD, CCC-SLP
Description
The purpose of this poster is to explore non-words (NWs) as targets in the treatment of speech sound disorders (SSD) in children. To better understand the basic science behind word lexicality and phonological learning, the mechanisms at work will be explained. Non-words, phonological representation, and lexical representation will be defined in order to further understand the potential benefits of using non-words in therapy.
Presentation Type
Poster Presentation
Department
Communication Disorders and Deaf Education
Degree Name
Master of Science (MS)
Degree Program
speech-Language Pathology
Publisher
Fontbonne University Archives
Disciplines
Communication Sciences and Disorders | Speech and Hearing Science | Speech Pathology and Audiology
Recommended Citation
Hacking, Nicole, "The Use of Non-Words as Targets in the Treatment of Speech Sound Disorders in Children" (2020). Speech-Language Pathology Posters. 9.
https://griffinshare.fontbonne.edu/slp-posters/9
Creative Commons License


This work is licensed under a Creative Commons Attribution-Noncommercial-Share Alike 4.0 License.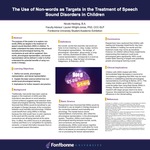 COinS