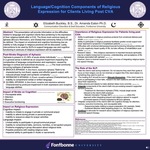 Faculty Advisor
Amanda Eaton | PhD, CCC-SLP
Description
This presentation will provide information on the difficulties related to language and cognition clients face pertaining to the expression of their religious beliefs after a CVA. The three most common types of aphasia (Broca's Wernicke's, and Global) that commonly follow a CVA will be defined. The impact on emotional and cognitive functioning due to an inability to fully engage in religious practices will be discussed. Lastly, interventions to be used by SLPs to support language use and cognitive functioning in avenues of religious expression will be explained.
Presentation Type
Poster Presentation
Department
Communication Disorders and Deaf Education
College
College of Education and Allied Health
Degree Name
Master of Science (MS)
Degree Program
Speech-Language Pathology
Disciplines
Communication Sciences and Disorders | Speech and Hearing Science | Speech Pathology and Audiology
Publisher
Fontbonne University Archives
Keywords
Broca's Aphasia, Wernicke's Aphasia, Global Aphasia
Recommended Citation
Buckley, Elizabeth, "Language/Cognition Components of Religious Expression for Clients Living Post CVA" (2020). 2020 Speech-Language Pathology Posters. 5.
https://griffinshare.fontbonne.edu/slp-posters/5
Creative Commons License


This work is licensed under a Creative Commons Attribution-Noncommercial-No Derivative Works 4.0 License.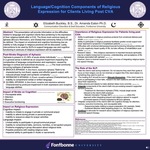 COinS