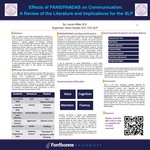 Faculty Advisor
Aaron Doubet | MA, MS, CCC-SLP
Description
PANS, or Pediatric Acute Onset Neuropsychiatric Syndrome, is characterized by a dramatic onset of neuropsychiatric symptoms such as obsessions, compulsions, tics, depression and anxiety. This syndrome is typically triggered by infections, metabolic disturbances or other inflammatory reactions. PANS is the overall category in which PANDAS falls, with which the trigger is the streptococcal infection. PANS can cause deterioration of a child's school performance. More specifically, the child may suddenly present with ADHD, deficits in memory, and cognitive changes. Speech, language and feeding can be impacted due to the antibodies attacking the brain in response to PANDAS/PANS. A child may suddenly begin stuttering or even develop selective mutism. Because of this, children with PANDAS/PANS are at a higher chance of coming across an SLP's caseload. It is important for the SLP to know the characteristics of PANDAS/PANS in order to make appropriate referrals. Proper diagnosis and medication management can assist in the process of controlling PANDAS/PANS.
Presentation Type
Poster Presentation
Department
Communication Disorders and Deaf Education
College
College of Education and Allied Health
Degree Name
Master of Science (MS)
Degree Program
Speech-Language Pathology
Disciplines
Communication Sciences and Disorders | Speech and Hearing Science | Speech Pathology and Audiology
Publisher
Fontbonne University Archives
Recommended Citation
Miller, Lauren, "Effects of PANS/PANDAS on Communication: A Review of the Literature and Implications for the SLP" (2020). 2020 Speech-Language Pathology Posters. 20.
https://griffinshare.fontbonne.edu/slp-posters/20
Creative Commons License


This work is licensed under a Creative Commons Attribution-Noncommercial-No Derivative Works 4.0 License.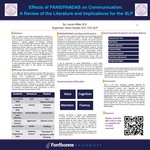 COinS