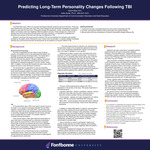 Faculty Advisor
Kelly Zarifa
Description
Traumatic Brain Injury (TBI) is an acquired neurological disorder caused by trauma to the brain. Those who have experienced a traumatic brain injury often report changes to their personality immediately and sometimes lasting for years after the initial injury. Personality changes like depression, anxiety, mood swings, emotional lability, and impulse control can negatively affect the patient's recovery. These changes are a result of the damage done to the frontal lobe and other parts of the brain; therefore, it is important to understand the structures and functions of the brain and how they are affected by a TBI. od can be predictive of long-term effects of TBI.
Keywords
Tramatic Brain Injury, TBI, Personality changes, Neurological disorder, Brain injury, Head trauma, Frontal lobe
Disciplines
Communication Sciences and Disorders | Speech and Hearing Science | Speech Pathology and Audiology
Presentation Type
Poster Presentation
College
College of Education and Allied Health
Department
Communication Disorders and Deaf Education
Degree Name
Master of Science (MS)
Degree Program
Speech-Language Pathology
Publication Date
Spring 2023
Publisher
Fontbonne University Archives
Recommended Citation
Baer, Sarah, "Predicting Long-Term Personality Changes Following TBI" (2023). 2023 SLP Posters. 9.
https://griffinshare.fontbonne.edu/slp-posters-2023/9
Creative Commons License


This work is licensed under a Creative Commons Attribution-Noncommercial-No Derivative Works 4.0 License.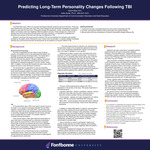 COinS