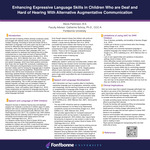 Faculty Advisor
Catherine Schroy
Description
Deaf and hard of hearing children develop vocabulary slowly and struggle with abstract words, functional words, and multiple meanings. According to Scott and Dostal (2019) a deprivation of language in the early years may be a part of the puzzle for difficulties deaf and hard of hearing children encounter, rather than the hearing loss itself. Research points towards the use of American Sign Language (ASL) as a reliable treatment for deafness and hearing loss but is often overlooked due to many deaf and hard of hearing (DHH) children being born to hearing parents (Grether et al., 2019:Lederberg, et al., 2013; Meinzen-Derr et al., 2021). Some other forms of treatment include simultaneous communication and spoken language, which have fewer positive outcomes than those who are taught ASL exclusively (Lederberg et al., 2013) Alternative and Augmentative Communication (AAC) has been widely used for closing the language gap in students who have complex learning disabilities. Researchers such as Meinzen-Derr (2019) have introduced an innovative technology assisted therapy intervention otherwise known as Technology Assisted Language Intervention (TALI) for DHH children and has seen promising results. AAC applications mostly used simplistic communication to convey meaning and assess understanding. TALI or AAC provides support for abstract linguistic concepts such as consistent models for verbalizations and recognition memory and can provide multisensory, visual, and auditory input (Drager et al., 2010). These components are important for language learning and learning abstract language concepts in environments that are verbal language dominant.
Keywords
AAC, MLU, DHH, Deaf and Hard of Hearing Children, American Sign Language
Disciplines
Communication Sciences and Disorders | Speech and Hearing Science | Speech Pathology and Audiology
Presentation Type
Poster Presentation
College
College of Education and Allied Health
Department
Communication Disorders and Deaf Education
Degree Name
Master of Science (MS)
Degree Program
Speech-Language Pathology
Publication Date
Spring 2023
Publisher
Fontbonne University Archives
Recommended Citation
Parkinson, Alexis, "Enhancing Expressive Language Skills in Children Who are Deaf and Hard of Hearing with Alternative Augmentative Communication" (2023). 2023 SLP Posters. 5.
https://griffinshare.fontbonne.edu/slp-posters-2023/5
Creative Commons License


This work is licensed under a Creative Commons Attribution-Noncommercial-No Derivative Works 4.0 License.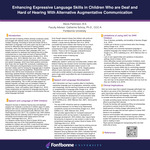 COinS