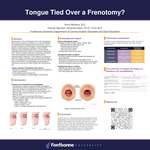 Faculty Advisor
Amanda Eaton
Description
Approximately 5-10% of individuals are born with ankyloglossia, also known as 'tongue-tie'. Frenectomy, is a common treatment for ankyloglossia by un-attaching part of the frenulum. Current research is based on the initial impact of infant ankyloglossia as it pertains to infant feeding and swallowing. There is limited evidence to inform decisions about when or if mild-moderate ankyloglossia will have an impact on an individual's speech later in life. This lack of evidence has led to controversy surrounding infant versus adolescent frenotomies and their utility for preventing speech impairment. Further research is necessary to determine whether a frenectomy as a child prevents articulation errors as an adolescent. This presentation will review the different types of frenectomies, the disadvantages and advantages of receiving one, and why one might consider their child receiving one.
Keywords
Tongue-tie, Tongue-tie surgery, Ankyloglossia, Frenectomy, Frenotomy, Infant frenotomy, Adolescent frenotomy, Speech impairment, Breastfeeding
Disciplines
Communication Sciences and Disorders | Speech and Hearing Science | Speech Pathology and Audiology
References
Cohain, J. S. (2018). What we know and don't know about tongue-tie. Midwifery Today. https://www.researchgate.net/profile/Judy-Slome-Cohain/publication/3277790 63_What_we_know_and_dont_know_about_Tongue_Tie/links/5ba3d3cc299b f13e603fb7f7/What-we-know-and-dont-know-about-Tongue-Tie.pdf
D M B Hall, M J Renfrew. (2005, November 21). Tongue tie. https://adc.bmj.com/content/archdischild/90/12/1211.1.full.pdf
Healthwise Staff. "Tongue-Tie in Children: Care Instructions." MyHealth.Alberta.ca Government of Alberta Personal Health Portal, 20 Sept. 2021, https://myhealth.alberta.ca/Health/aftercareinformation/pages/conditions.aspx ?hwid=ut2836
Iftikhar, N. (2020, November 26). Tongue-tie surgery: What to expect for your baby or toddler. Healthline. https://www.healthline.com/health/baby/tongue-tie-surgery#tongue-tie
Illing, S., Minnee, M., Wheeler, J., & Illing, L. (2019, August 16). The value of frenotomy for ankyloglossia from a parental perspective. The New Zealand Medical Journal Vol 132 No 1500. https://journal.nzma.org.nz/journal-articles/the-value-of-frenotomy-for-ankylogl ossia-from-a-parental-perspective
Jonathan Melong, MD, BSc, Pharm1, Michael Bezuhly, MD, MSc1, and Paul Hong, MD, MSc. (2021). The Effect of Tongue-Tie Release on Speech Articulation and Intelligibility. Ear, Nose & Throat Journal Vol. 0(0) 1–5. https://journals.sagepub.com/doi/pdf/10.1177/01455613211064045?__cf_chl_ f_tk=_76OXNsDV.ZIwqZ4qxkHH044lfa_0FRkq870jvN6lYs-1666053939-0-ga NycGzNB6U
Lawrence, K. A. (1999). Ankyloglossía (tongue-tie): A diagnostic and treatment quandary. Quintpub. http://www.quintpub.com/userhome/qi/qi_30_4_kotlow_10.pdf
Spellman, J. M. (Ed.). (2016, July 6). Ankyloglossia (tongue tie). Children's Hospital of Philadelphia. https://www.chop.edu/conditions-diseases/ankyloglossia-tongue-tie
Wang J, Yang X, Hao S, Wang Y. (2021).The effect of ankyloglossia and tongue-tie division on speech articulation: A systematic review. Int J Paediatr Dent. 2022;32:144–156. https://doi. org/10.1111/ipd.12802
Presentation Type
Poster Presentation
College
College of Education and Allied Health
Department
Communication Disorders and Deaf Education
Degree Name
Master of Science (MS)
Degree Program
Speech-Language Pathology
Publication Date
Spring 2023
Publisher
Fontbonne University Archives
Recommended Citation
Niehaus, Anna, "Tongue Tied over a Frenotomy?" (2023). 2023 SLP Posters. 41.
https://griffinshare.fontbonne.edu/slp-posters-2023/41
Creative Commons License


This work is licensed under a Creative Commons Attribution-Noncommercial-No Derivative Works 4.0 License.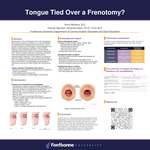 COinS