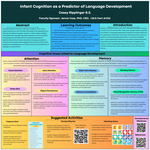 Faculty Advisor
Jenna Voss
Description
Through everyday interactions with their caregivers, most infants readily acquire early communication that leads to the development of listening and spoken language. However, a child's cognitive abilities may predict their language acquisition trajectory and the complexity of language they ultimately achieve. This poster describes the cognitive skills which are known predictors of language acquisition. Furthermore, this poster offers suggested intervention activities which caregivers and professionals can utilize to enhance the development of language in young children.
Keywords
Language development, Infant cognition, Cognitive abilities, Attention, Memory, Treasure hunt, Nursery rhymes, Matching game
Disciplines
Communication Sciences and Disorders | Speech and Hearing Science | Speech Pathology and Audiology
References
Bialystok, E. (1999). Cognitive complexity and attentional control in the bilingual mind. Child Development, 70(3), 636–644. https://doi.org/10.1111/1467-8624.00046
Borgström, K., Torkildsen, J. von, Sahlén, B., & Lindgren, M. (2019). Brain measures of toddlers' shape recognition predict language and cognitive skills at 6–7 Years. Frontiers in Psychology, 10. https://doi.org/10.3389/fpsyg.2019.01945
Bruce, M., Miyazaki, Y., & Bell, M. A. (2022). Infant attention and maternal education are associated with childhood receptive vocabulary development. Developmental Psychology, 58(7), 1207–1220. https://doi.org/10.1037/dev0001365
Federmeier, K. D., Jongman, S. R., & Szewczyk, J. M. (2020). Examining the role of general cognitive skills in language processing: A window into complex cognition. Current Directions in Psychological Science, 29(6), 575–582. https://doi.org/10.1177/0963721420964095
Fernald, A., Perfors, A., & Marchman, V. A. (2006). Picking up speed in understanding: Speech processing efficiency and vocabulary growth across the 2nd year. Developmental Psychology, 42(1), 98–116. https://doi.org/10.1037/0012-1649.42.1.98
Kuhl, P. K. (2011). Early language learning and literacy: Neuroscience implications for education. Mind, Brain, and Education, 5(3), 128–142. https://doi.org/10.1111/j.1751-228x.2011.01121.x
Loeb, D. F. (1997). Early language acquisition and Intervention. Perspectives on Neurophysiology and Neurogenic Speech and Language Disorders, 7(1), 18–25. https://doi.org/10.1044/nnsld7.1.18
Naigles, L. R. (2020). It takes all kinds (of information) to learn a language: Investigating the language comprehension of typical children and children with autism. Current Directions in Psychological Science, 30(1), 11–18. https://doi.org/10.1177/0963721420969404
Orr, E., & Geva, R. (2015). Symbolic play and language development. Infant Behavior and Development, 38, 147–161. https://doi.org/10.1016/j.infbeh.2015.01.002
Perlovsky, L. (2011). Language and cognition interaction neural mechanisms. Computational Intelligence and Neuroscience, 2011, 1–13. https://doi.org/10.1155/2011/454587
Pinker, S., & Quinn, W. V. O. (2014). Interrelationship of language and former implies that some general ...quote.ucsd.edu. Retrieved February 19, 2023, from https://quote.ucsd.edu/cogdevlab/files/2014/09/Deak_Ency_Lang_Dev_Relation_Lang_Cog _Dev_2014.pdf
Rivera-Gaxiola, M., Klarman, L., Garcia-Sierra, A., & Kuhl, P. K. (2005). Neural patterns to speech and vocabulary growth in American infants. NeuroReport, 16(5), 495–498. https://doi.org/10.1097/00001756-200504040-00015
Rose, S. A., Feldman, J. F., & Jankowski, J. J. (2009). A cognitive approach to the development of early language. Child Development, 80(1), 134–150. https://doi.org/10.1111/j.1467-8624.2008.01250.x
Presentation Type
Poster Presentation
College
College of Education and Allied Health
Department
Communication Disorders and Deaf Education
Degree Name
Master of Science (MS)
Degree Program
Speech-Language Pathology
Publication Date
Spring 2023
Publisher
Fontbonne University Archives
Recommended Citation
Ripplinger, Casey, "Infant Cognition as a Predictor of Language Development" (2023). 2023 SLP Posters. 39.
https://griffinshare.fontbonne.edu/slp-posters-2023/39
Creative Commons License


This work is licensed under a Creative Commons Attribution-Noncommercial-No Derivative Works 4.0 License.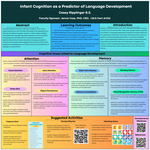 COinS