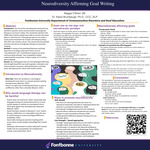 Faculty Advisor
Klaire Brumbaugh
Description
The rise of the neurodiversity movement has started to question social communication and pragmatic therapy as we know it today. This movement started in the 1990s when Autistic people were able to connect and share ideas in online forums. These groups went on to create a social-justice movement for Autistic self-advocacy along with their own Autistic culture. This community has pointed out that some forms of pragmatic therapy can promote masking.
Keywords
Neurodiversity, Neurodivergent, Self-advocacy, Autism, Autistic culture, Strength-based, Neurodiversity affirming, Masking
Disciplines
Communication Sciences and Disorders | Speech and Hearing Science | Speech Pathology and Audiology
Presentation Type
Poster Presentation
College
College of Education and Allied Health
Department
Communication Disorders and Deaf Education
Degree Name
Master of Science (MS)
Degree Program
Speech-Language Pathology
Publication Date
Spring 2023
Publisher
Fontbonne University Archives
Recommended Citation
O'Brien, Maggie O'Brien, "Neurodiversity Affirming Goal Writing" (2023). 2023 SLP Posters. 37.
https://griffinshare.fontbonne.edu/slp-posters-2023/37
Creative Commons License


This work is licensed under a Creative Commons Attribution-Noncommercial-No Derivative Works 4.0 License.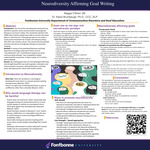 COinS