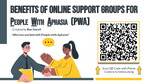 Faculty Advisor
Amanda Eaton
Description
Research on quality of life for People with Aphasia (PWA) post-stroke. Benefits of Life Participation Approach to Aphasia (LPAA).
Keywords
Stroke, Post-stroke, Aphasia, People with Aphasia (PWA), Online support group, Virtual support group, Life Participation approach to Aphasia (LPAA), Bilingual
Disciplines
Communication Sciences and Disorders | Speech and Hearing Science | Speech Pathology and Audiology
References
Brown, et al (2011) Living Successfully with Aphasia: Family Members Share Their Views. Topics in Stroke Rehabilitation Sept-Oct 2011.
Chapey, R., Duchan, J. F., Elman, R. J., Garcia, L. J., Kagan, A., Lyon, J., & Mackie, N. S. (2000). Life Participation Approach to Aphasia: A Statement of Values for the Future. ASHA Leader, 5(3), 4. https://doi.org/10.1044/leader.FTR.05032000.4
Elman RJ. (2007). The importance of aphasia group treatment for rebuilding community and health. Topics in Language Disorders, 27(4), 300–308. https://doi.org/10.1097/01.tld.0000299884.31864.99
Katerina Hilari & Sarah Northcott (2017) "Struggling to stay connected": comparing the social relationships of healthy older people and people with stroke and aphasia, Aphasiology.
Lam, J.M.C. & Wodchis, W. P. (2010) The relationship of 60 disease diagnoses and 15 conditions to preference- based health-related quality of life in Ontario hospital-based long-term care residents. Medical Care.
Pisano F, Giachero A, Rugiero C, Calati M, Marangolo P. Does COVID-19 Impact Less on Post-stroke Aphasia? This Is Not the Case. Front Psychol. 2020 Nov 30.
Reed, A., Carter, S., & Steele, R. (October, 2022). Virtual Connections & The Importance of Social Interaction in Living with Aphasia. Lingraphica Annual Meeting 2022.
Rogalski, E. J., & Khayum, B. (2018). A Life Participation Approach to Primary Progressive Aphasia Intervention. Seminars in Speech & Language, 39(3), 284–296. https://doi.org/10.1055/s-0038-1660786
World Health Organization. (2001). International Classification of functioning, Disability and Health (ICF). World Health Organization. Retrieved from https://www.who.int/standards/classifications/international-classification-of-functioning-disability-and-health
Zanella, et al. (2022) Incidence of post-stroke depression symptoms and potential risk factors in adults with aphasia in a comprehensive stroke center, Topics in Stroke Rehabilitation.
Presentation Type
Poster Presentation
College
College of Education and Allied Health
Department
Communication Disorders and Deaf Education
Degree Name
Master of Science (MS)
Degree Program
Speech-Language Pathology
Publication Date
Spring 2023
Publisher
Fontbonne University Archives
Recommended Citation
Norell, Benjamin, "Benefits of Online Support Groups for People with Aphasia (PWA)" (2023). 2023 SLP Posters. 35.
https://griffinshare.fontbonne.edu/slp-posters-2023/35
Creative Commons License


This work is licensed under a Creative Commons Attribution-Noncommercial-No Derivative Works 4.0 License.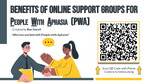 COinS