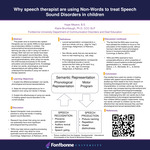 Faculty Advisor
Klaire Brumbaugh
Description
This poster aims to examine why speech therapists use non-words (NWs) to treat speech sound disorders (SSDs) in children. The science behind lexical and phonological learning can play a role in using non-words in therapy. Both real and non-words have been used to treat speech sound disorders. Using real words in treatment can help the child with sound generalizations, while using non-words, the child focuses exclusively on the words' articulation and phonological forms. Knowledge of what non-words, phonological, and lexical representations are willing better help understand the benefits of using non-words in therapy sessions.
Keywords
Speech therapy, Speech Sound Disorders, SSD, Non-Words
Disciplines
Communication Sciences and Disorders | Speech and Hearing Science | Speech Pathology and Audiology
Presentation Type
Poster Presentation
College
College of Education and Allied Health
Department
Communication Disorders and Deaf Education
Degree Name
Master of Science (MS)
Degree Program
Speech-Language Pathology
Publication Date
Spring 2023
Publisher
Fontbonne University Archives
Recommended Citation
Meyers, Hope, "Why Speech Therapists Are Using Non-Words to treat Speech Sound Disorders in Children" (2023). 2023 SLP Posters. 33.
https://griffinshare.fontbonne.edu/slp-posters-2023/33
Creative Commons License


This work is licensed under a Creative Commons Attribution-Noncommercial-No Derivative Works 4.0 License.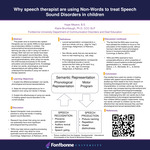 COinS