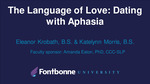 Faculty Advisor
Amanda Eaton
Description
"Stroke and aphasia can negatively affect a person's ability to maintain healthy social relationships, both within the family and also with friends and the wider network" (Fotiadou et al., 2014). However, very few studies explicitly target skills needed for successful dating among clients with aphasia. Survey data was collected from adults with chronic aphasia to determine perceived barriers, confidence, fear, and success associated with dating, and previous experience in speech therapy. This session will include a literature review related to aspects of communication needed for successful dating, aphasia-related deficits, and the potential impact on the dating process. Participant responses will be analyzed and presented. Additionally, goals, target selection, and other considerations for intervention will be discussed.
Keywords
Aphasia, Stroke, Dating skills, Dating, Relationships, Social interaction, Alternative forms of communication
Disciplines
Communication Sciences and Disorders | Speech and Hearing Science | Speech Pathology and Audiology
References
"Aphasia." American Speech-Language-Hearing Association, American Speech-Language-Hearing Association, https://prep.asha.org/public/speech/disorders/aphasia/.
Dimitra Fotiadou, Sarah Northcott, Ariadni Chatzidaki & Katerina Hilari (2014) Aphasia blog talk: How does stroke and aphasia affect a person's social relationships?, Aphasiology, 28:11, 1281-1300, DOI: 10.1080/02687038.2014.928664
Fama, M. E., Baron, C. R., Hatfield, B., & Turkeltaub, P. E. (2016). Group therapy as a social context for aphasia recovery: a pilot, observational study in an acute rehabilitation hospital. Topics in stroke rehabilitation, 23(4), 276–283. https://doi.org/10.1080/10749357.2016.1155277
Fichten, C. S., Tagalakis, V., Judd, D., Wright, J., & Amsel, R. (1992). Verbal and nonverbal communication cues in daily conversations and dating. The Journal of Social Psychology, 132(6), 751–769. https://doi.org/10.1080/00224545.1992.9712105
Fotiadou, Dimitria, et al. "Aphasia Blog Talk: How Does Stroke and Aphasia Affect a Person's Social Relationships?" Aphasiology, Taylor & Francis Online, 19 June 2014, https://www.tandfonline.com/doi/full/10.1080/02687038.2014.928664.
Ganzfried, E. S. (2018). Living With Aphasia: Realities, Challenges, and Opportunities. Perspectives of the ASHA Special Interest Groups, 3(2), 68–79. https://doi.org/10.1044/persp3.SIG2.68
Greig, C.-A., Harper, R., Hirst, T., Howe, T., & Davidson, B. (2008). Barriers and facilitators to mobile phone use for people with aphasia. Topics in Stroke Rehabilitation, 15(4), 307–324. https://doi.org/10.1310/tsr1504-307
Kaye, Rosalind C, and Leora Reiff Cherney. (2017). "Script Templates: A Practical Approach to Script Training in Aphasia." Topics in language disorders vol. 36,2 (2016): 136-153. doi:10.1097/TLD.0000000000000086
Kimbarow, Michael L. PhD, CCC-SLP, BC-NCD. Integrating Life Participation Approaches to Aphasia Treatment With Adult Learning Theory: A Synergistic Approach. Topics in Language Disorders 27(4):p 318-323, October 2007. | DOI: 10.1097/01.TLD.0000299886.16617.25
Manning, M., MacFarlane, A., Hickey, A., Galvin, R., & Franklin, S. (2022). Regulating emotional responses to aphasia to Re‐engage in life: A qualitative interview study. International Journal of Language & Communication Disorders, 57(2), 352–365. https://doi.org/10.1111/1460-6984.12702
Simmons-Mackie, Nina, and Jack S. Damico. "Counseling and Aphasia Treatment ." Allied Health , 2011, https://alliedhealth.ceconnection.com/files/TLD1011D-1337960838684.pdf.
Tippett, Donna C et al. "Aphasia: Current Concepts in Theory and Practice." Journal of neurology & translational neuroscience vol. 2,1 (2014): 1042.
Presentation Type
Poster Presentation
College
College of Education and Allied Health
Department
Communication Disorders and Deaf Education
Degree Name
Master of Science (MS)
Degree Program
Speech-Language Pathology
Publication Date
Spring 2023
Publisher
Fontbonne University Archives
Recommended Citation
Krobath, Eleanor and Morris, Katelynn, "The Language of Love: Dating with Aphasia" (2023). 2023 SLP Posters. 29.
https://griffinshare.fontbonne.edu/slp-posters-2023/29
Creative Commons License


This work is licensed under a Creative Commons Attribution-Noncommercial-No Derivative Works 4.0 License.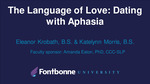 COinS