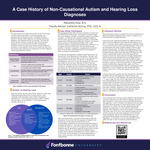 Faculty Advisor
Catherine Schroy
Description
This case study looks retroactively at one now 20-year-old white male's case history -- for privacy purposes, our participant will be referred to a ZG -- reviewing his Autism Spectrum Disorder (ASD) diagnosis, his bilateral hearing loss diagnosis, and treatment services he received. This study will review literature relating to those who have had similar dual diagnoses, how one can look like the other by discussing symptoms of both and where they overlap, and what treatment was given to those patients. By the end, the author will infer if the best choices were made given his diagnoses and which diagnosis was given precedence in his life.
Keywords
ASD, Autism Spectrum Disorder, GARS, ABA, Applied Behavior Analysis, Hearing Loss
Disciplines
Communication Sciences and Disorders | Speech and Hearing Science | Speech Pathology and Audiology
Presentation Type
Poster Presentation
College
College of Education and Allied Health
Department
Communication Disorders and Deaf Education
Degree Name
Master of Science (MS)
Degree Program
Speech-Language Pathology
Publication Date
Spring 2023
Publisher
Fontbonne University Archives
Recommended Citation
Gray, Alexandra, "A Case History of Non-Causational Autism and Hearing Loss Diagnoses" (2023). 2023 SLP Posters. 2.
https://griffinshare.fontbonne.edu/slp-posters-2023/2
Creative Commons License


This work is licensed under a Creative Commons Attribution-Noncommercial-No Derivative Works 4.0 License.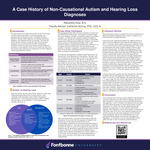 COinS