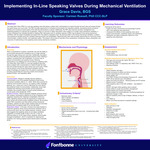 Faculty Advisor
Carmen Russell
Description
The Passy Muir Valve (PMV) is a one-way speaking valve that allows a patient with a tracheostomy to inspire through the trach tube and exhale through the upper airway and vocal cords. The PMV provides opportunity for increased communication for respiratory patients, decreasing psycho-emotional distress and increasing overall quality of life while the tracheostomy is placed. Additionally, the PMV also improves secretion management and swallowing leading to a reduced risk of aspiration. While it is common to delay intervention until a patient is no longer using mechanical ventilation, a review of literature has indicated benefits to initiating PMV intervention prior to ventilator weaning. A PMV may be placed in-line during mechanical ventilation with the proper knowledge and support from the patient's respiratory team. By placing a PMV in-line during mechanical ventilation, a patient may experience benefits during the ventilator weaning process and rehabilitation. Beginning early PMV trails provides opportunities for improving overall communication, swallow function, and respiratory status. This session will provide an overview of the mechanisms, inclusionary criteria, procedures, and outcomes of implementing in-line speaking valves during mechanical ventilation.
Keywords
Autism, Autism Spectrum Disorder, ASD, Minimal verbal expressive language, Picture Exchange Communication System, PECS, Functional communication development
Disciplines
Communication Sciences and Disorders | Speech and Hearing Science | Speech Pathology and Audiology
References
Bell, S. D. (1996). Use of Passy-Muir tracheostomy speaking valve in mechanically ventilated neurological patients. Critical Care Nurse, 16(1), 63–68. https://doi.org/10.4037/ccn1996.16.1.63 Bier, J., Hazarian, L., McCabe, D., & Perez, Y. (2004). Giving your patient a voice with a tracheostomy speaking valve. Nursing, 34, 16–18. https://doi.org/10.1097/00152193- 200410001-00005 Ciampitti, M. (2016). Effects of PMV® In-line with Mechanical Ventilation on Communication and Swallowing. Talk Muir, 6(1). • Abstract • Inclusionary Criteria* • Mechanisms and Physiology • Assessment • Learning Outcomes: • References Dikeman, K. J., & Kazandjian, M. S. (2008). Managing voice and communication for tracheostomized and ventilator dependent patients: Clinical case studies. Perspectives on Voice and Voice Disorders, 18(2), 66–75. https://doi.org/10.1044/vvd18.2.66 Egbers, P. H., & Boerma, E. C. (2017). Communicating with conscious mechanically ventilated critically ill patients: Let them speak with deflated cuff and an in-line speaking valve! Critical Care, 21(1). https://doi.org/10.1186/s13054-016-1587-8 Grossbach, I., Stranberg, S., & Chlan, L. (2011). Promoting effective communication for patients receiving mechanical ventilation. Critical Care Nurse, 31(3), 46–60. https://doi.org/10.4037/ccn2010728 Manzano, J. L., & Lubillo, S. (1993). Verbal communication of ventilator-dependent patients. Critical Care Medicine, 21(4), 512–517. https://doi.org/10.1097/00003246-199304000-00009 Sudderth, G. M. (2016). Speaking Valve Use During Mechanical Ventilation: More than Just for Communication and Swallowing. Talk Muir, 6(1). Sutt, A.-L., & King, K. (2016). Evidence Based Support for Using a PMV® In-line with Mechanical Ventilation: A Researcher's Perspective. Talk Muir, 6(1). Sutt, A.-L., Cornwell, P. L., Hay, K., Fraser, J. F., & Rose, L. (2022). Communication success and speaking valve use in intensive care patients receiving mechanical ventilation. American Journal of Critical Care, 31(5), 411–415. https://doi.org/10.4037/ajcc2022516
Presentation Type
Poster Presentation
College
College of Education and Allied Health
Department
Communication Disorders and Deaf Education
Degree Name
Master of Science (MS)
Degree Program
Speech-Language Pathology
Publication Date
Spring 2023
Publisher
Fontbonne University Archives
Recommended Citation
Davis, Grace, "Implementing In-Line Speaking Valves During Mechanical Ventilation" (2023). 2023 SLP Posters. 17.
https://griffinshare.fontbonne.edu/slp-posters-2023/17
Creative Commons License


This work is licensed under a Creative Commons Attribution-Noncommercial-No Derivative Works 4.0 License.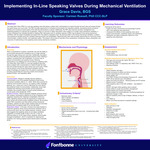 COinS