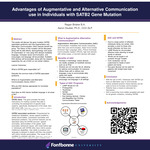 Faculty Advisor
Aaron Doubet
Description
This poster discusses the gene mutation SATB2 associated syndrome and how Augmentative and Alternative Communication (AAC) devices benefit the group. The history of this mutation will be discussed, along with its side effects, dysmorphology and cause. An examination of how using AAC devices facilitates language, increases social communication, and encourages oral language will be provided. Available AAC devices will be provided, along with the research supporting the use of AAC on non-verbal children.
Keywords
SATB2 gene mutation, SATB2-associated syndrome, Augmentative Alternative Communication, AAC
Disciplines
Communication Sciences and Disorders | Speech and Hearing Science | Speech Pathology and Audiology
Presentation Type
Poster Presentation
College
College of Education and Allied Health
Department
Communication Disorders and Deaf Education
Degree Name
Master of Science (MS)
Degree Program
Speech-Language Pathology
Publication Date
Spring 2023
Publisher
Fontbonne University Archives
Recommended Citation
Brisker, Regan, "Advantages of Augmentative and Alternative Communication Use in Individuals with SATB2 Gene Mutation" (2023). 2023 SLP Posters. 11.
https://griffinshare.fontbonne.edu/slp-posters-2023/11
Creative Commons License


This work is licensed under a Creative Commons Attribution-Noncommercial-No Derivative Works 4.0 License.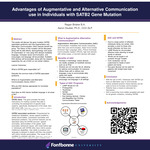 COinS