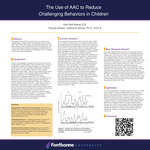 Faculty Advisor
Catherine Schroy
Files
Description
This session provides an overview of the use, benefit, and implementation of Augmentative and Alternative Communication (AAC) with children who present with challenging behaviors. The basic process of when to implement AAC will be discussed. There will be a brief review of literature regarding the benefit of AAC on students with challenging behaviors. Application of this knowledge in practice will also be discussed.
Disciplines
Communication Sciences and Disorders | Speech and Hearing Science | Speech Pathology and Audiology
References
Digeser, F. M., Hast, A., Wesarg, T., Hessel, H., & Hoppe, U. (2011). Melody identification for cochlear implant users and normal hearers using expanded pitch contours. European Archives of Oto-Rhino-Laryngology, 269(11), 2317–2326. https://doi.org/10.1007/s00405-011-1885-3 Drennan,
W. R. (2008). Music perception in cochlear implant users and its relationship with psychophysical capabilities. The Journal of Rehabilitation Research and Development, 45(5), 779–790. https://doi.org/10.1682/jrrd.2007.08.0118
Driscoll, V. (2012). The effects of training on recognition of musical instruments by adults with cochlear implants. Seminars in Hearing, 33(04), 410–418. https://doi.org/10.1055/s-0032-1329230
Fletcher, M. D., Thini, N., & Perry, S. W. (2020). Enhanced pitch discrimination for cochlear implant users with a new haptic neuroprosthetic. Scientific Reports, 10(1). https://doi.org/10.1038/s41598-020-67140-0
Hossain, S., Montazeri, V., & Assmann, P. F. (2016). Musical instrument identification in simulated electric acoustic hearing and in cochlear implant users with contralateral hearing aids. Psychomusicology: Music, Mind, and Brain, 26(3), 270–278. https://doi.org/10.1037/pmu0000157
Hutter, E., Argstatter, H., Grapp, M., & Plinkert, P. K. (2015). Music therapy as specific and complementary training for adults after cochlear implantation: A pilot study. Cochlear Implants International, 16(3). https://doi.org/10.1179/1467010015z.000000000261
Limb, C. J., & Roy, A. T. (2014). Technological, biological, and acoustical constraints to music perception in cochlear implant users. Hearing Research, 308, 13–26. https://doi.org/10.1016/j.heares.2013.04.009
Looi, V., McDermott, H., McKay, C., & Hickson, L. (2008). The effect of cochlear implantation on music perception by adults with usable pre-operative acoustic hearing. International Journal of Audiology, 47(5), 257–268. https://doi.org/10.1080/14992020801955237
Rothaus, C. (2020, April 15). Cochlear implants in adults: Nejm resident 360. mms.org. Retrieved April 2, 2023, from https://resident360.nejm.org/content-items/cochlear-implants-in-adults
Presentation Type
Poster Presentation
College
College of Education and Allied Health
Department
Communication Disorders and Deaf Education
Degree Name
Master of Science (MS)
Degree Program
Speech-Language Pathology
Publication Date
Spring 2023
Publisher
Fontbonne University Archives
Recommended Citation
Fortney, Rachel, "Music Perception in Cochlear Implant Users" (2023). 2023 SLP Posters. 1.
https://griffinshare.fontbonne.edu/slp-posters-2023/1
Creative Commons License


This work is licensed under a Creative Commons Attribution-Noncommercial-No Derivative Works 4.0 License.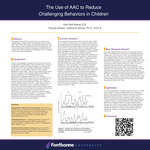 COinS