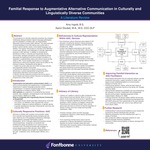 Faculty Advisor
Aaron Doubet
Description
The purpose of this presentation is to discuss the current literature regarding augmentative alternative communication devices (AAC) in culturally and linguistically diverse communities. The roles expected of being facilitators of an AAC device may conflict with a family's cultural identity, values, home-based language, and abilities. This session will provide an overview of the definition, current state, efficacy, and challenges of culturally responsive practices in AAC services. In addition to reviewing the prevalence of AAC in culturally and linguistically diverse communities, facilitator perceptions and competence will be discussed. The literature suggests that cultural identification and literacy are closely tied. These factors should be considered when implanting AAC intervention across the lifespan. Future studies should focus on increased awareness of cultural and linguistic values and their effect on the intimacy of literacy.
Presentation Type
Poster Presentation
College
College of Education and Allied Health
Department
Communication Disorders and Deaf Education
Disciplines
Communication Sciences and Disorders | Speech and Hearing Science | Speech Pathology and Audiology
Degree Name
Master of Science (MS)
Degree Program
Speech-Language Pathology
Publication Date
Spring 2022
Publisher
Fontbonne University Archives
Keywords
AAC, AAC and Culture, Cultural Literacy Identity, Intimacy of Literacy, Linguistically Diverse Communities, Cultural Considerations for AAC, Culturally Responsive Practices
Recommended Citation
Ingold, Amy N., "Familial Response to Augmentative Alternative Communication in Culturally and Linguistically Diverse Communities" (2022). 2022 Speech-Language Pathology Posters. 9.
https://griffinshare.fontbonne.edu/slp-posters-2022/9
Creative Commons License


This work is licensed under a Creative Commons Attribution-Noncommercial-No Derivative Works 4.0 License.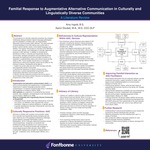 COinS