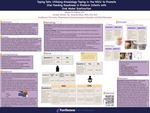 Faculty Advisor
Amanda Eaton
Description
According to the World Health Organization, approximately 15 million babies are born prematurely every year, which greatly increases the risk for feeding difficulties amongst babies being cared for in a Neonatal Intensive Care Unit (NICU). Preterm infants often experience prolonged stays in a NICU as medical professionals provide lifesaving and life-sustaining care. Amongst those medical professionals, is a Speech-Language Pathologist (SLP) who is the expert in infant feeding. One of the many roles of a NICU SLP is to improve an infant's oral motor control. In doing so, the SLP will look at ways in which they can increase functional strength and movement control of the lips, cheek, jaw, and tongue.
One way in ensuring this is through the application of Kinesiology Taping, also known as K-Tape (Gonzalez, 2021). However, there is limited research to support the efficacy of NICU SLPs utilizing K-Tape on infants. Therefore, the purpose of this study is to gain perspectives from NICU SLPs regarding their opinions, concerns, and thoughts about the effectiveness of implementing K-Tape as a treatment technique to promote safe and successful feeds.
Presentation Type
Poster Presentation
College
College of Education and Allied Health
Department
Communication Disorders and Deaf Education
Disciplines
Communication Sciences and Disorders | Speech and Hearing Science | Speech Pathology and Audiology
Degree Name
Master of Science (MS)
Degree Program
Speech-Language Pathology
Publication Date
Spring 2022
Publisher
Fontbonne University Archives
Keywords
Premature Birth, Neonatal Intensive Care Unit, SLP, K-Tape, Kinesiology Taping
Recommended Citation
O'Brien, Kaylee B., "Utilizing Kinesiology Taping within the NICU to Promote Oral Feeding Readiness in Preterm Infants with Oral Motor Dysfunction" (2022). 2022 Speech-Language Pathology Posters. 3.
https://griffinshare.fontbonne.edu/slp-posters-2022/3
Creative Commons License


This work is licensed under a Creative Commons Attribution-Noncommercial-No Derivative Works 4.0 License.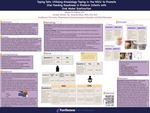 COinS