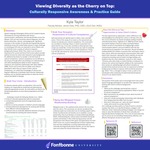 Faculty Advisor
Jenna Voss
Description
Speech-Language Pathologists (SLPs) and SLP students devote themselves to serving individuals with various communication, swallowing, and hearing disorders across the lifespan. SLPs not only encounter diverse diagnoses, but also diverse ethnicities, cultures, and backgrounds. Significant increases in the number of culturally and linguistically diverse individuals across the United States present a major challenge to monolingual SLPs who are required to serve children and their families from a variety of cultural or linguistic backgrounds (Caesar, 2013). Thus, there is an increase of importance for current and future SLPs to be ready to provide optimal services for clients who represent many backgrounds. An additional key factor to consider is the SLPs level of cultural competence. Cultural competence can be defined as the process through which one develops an understanding of self, while developing the ability to foster responsive, reciprocal, and respectful relationships with others (Battle, 2000). Future and current SLPs can better serve diverse populations when they are aware of their cultural competence, can utilize their knowledge of cultural and linguistic differences to facilitate client-clinician relationship building, and can identify opportunities to value the client's culture and beliefs in therapy.
Presentation Type
Poster Presentation
College
College of Education and Allied Health
Department
Communication Disorders and Deaf Education
Disciplines
Communication Sciences and Disorders | Speech and Hearing Science | Speech Pathology and Audiology
Degree Name
Master of Science (MS)
Degree Program
Speech-Language Pathology
Publication Date
Spring 2022
Publisher
Fontbonne University Archives
Keywords
Diversity, Hearing Disorders, SLPs, Speech-Language Pathologists, Monolingual
Recommended Citation
Taylor, Kyla, "Viewing Diversity as the Cherry on Top: Culturally Responsive Awareness and Practice Guide" (2022). 2022 Speech-Language Pathology Posters. 1.
https://griffinshare.fontbonne.edu/slp-posters-2022/1
Creative Commons License


This work is licensed under a Creative Commons Attribution-Noncommercial-No Derivative Works 4.0 License.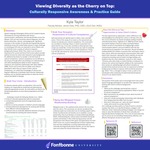 COinS