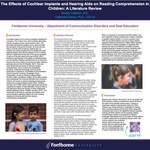 Faculty Advisor
Catherine Schroy | PhD, CCC-A
Description
A cochlear implant, or CI, is a device surgically implanted by a specialist. The CI has a wire, which contains electrodes, that is lead through the cochlea. The electrodes stimulate the auditory nerve, which provides the perception of sound for the brain, for those who are deaf or severely hard of hearing. Hearing aids, by contrast, are removable devices that are used to amplify sound for people who have residual hearing. Much like the earpiece of a CI, hearing aids are hooked around the back of the ear but are taken in and out of the ear canal by the user (ASHA). Reading comprehension is the ability to understand what you are reading. Reading comprehension is an interactive process that occurs before, throughout and after reading a particular piece of text. There are many factors that are known to influence reading comprehension, some of which are orthographic decoding, vocabulary knowledge, previous world awareness or experience, accessibility of this information from the long term memory, knowledge of story configuration, as well as inference making (Asker-Árnason, Wass, Gustafsson, Sahlén, 2015). Many studies have emphasized the immense difficulties that numerous children with severe to profound prelingual hearing loss experience in acquiring literacy skills. Some agreement has been come to regarding the degree of these difficulties, however, there is less agreement about the etiology of these reading and writing difficulties (Harris, Terlektsi, and Kyle, 2017). This review aims to provide an overview and analysis of the current research regarding children who use cochlear implants and hearing aids and their reading comprehension development.
References
A list of references is available HERE.
Presentation Type
Poster Presentation
College
College of Education and Allied Health
Department
Communication Disorders and Deaf Education
Disciplines
Communication Sciences and Disorders | Speech and Hearing Science | Speech Pathology and Audiology
Degree Name
Master of Science (MS)
Degree Program
Speech-Language Pathology
Publication Date
Spring 2021
Publisher
Fontbonne University Archives
Keywords
cochlear implants (CI), hearing aids, reading comprehension
Recommended Citation
Callahan, Shelby, "The Effects of Cochlear Implants and Hearing Aids on Reading Comprehension in Children: A Literature Review" (2021). 2021 Speech-Language Pathology Posters. 3.
https://griffinshare.fontbonne.edu/slp-posters-2021/3
Creative Commons License


This work is licensed under a Creative Commons Attribution-Noncommercial-No Derivative Works 4.0 License.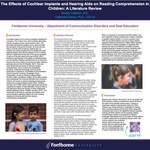 COinS