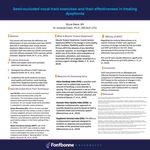 Faculty Advisor
Amanda Eaton | PhD, CCC-SLP
Description
This session will overview the definition and effectiveness of semi-occluded vocal tract (SOVT) exercises in individuals with muscle tension dysphonia (Meerschman et al., 2019). Semi-occluded vocal tract exercises will be summarized, and their efficacy reviewed. SOVT exercises will be reviewed. (Kapsner-Smith, M. R., et al., 2015).
Presentation Type
Poster Presentation
College
College of Education and Allied Health
Department
Communication Disorders and Deaf Education
Disciplines
Communication Sciences and Disorders | Speech and Hearing Science | Speech Pathology and Audiology
Degree Name
Master of Science (MS)
Degree Program
Speech-Language Pathology
Publication Date
Spring 2021
Publisher
Fontbonne University Archives
Keywords
SOVT, lip trill (LT), straw phonation (SP), water-resistance therapy (WRT), vocal handicap index (VHI), dysphonia severity index (DSI), acoustic voice quality index (AVQI), muscle tension dysphonia (MTD), melodic intonation therapy (MIT), vocal coaching techniques, stroke patients
Recommended Citation
Baker, Bryce, "Semi-Occluded Vocal Tract Exercises and Their Effectiveness in Treating Dysphonia" (2021). 2021 Speech-Language Pathology Posters. 1.
https://griffinshare.fontbonne.edu/slp-posters-2021/1
Creative Commons License


This work is licensed under a Creative Commons Attribution-Noncommercial-No Derivative Works 4.0 License.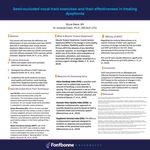 COinS