Alternate Name(s)
Džamija u Donjoj Puharskoj
Preview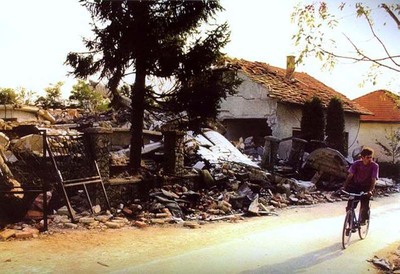 Region
Bosanska Krajina/Western Bosnia
Additional Construction Details
20th c. (1977)
Building Setting
completely destroyed
Building Condition
completely destroyed
Damage Description
The Donja Puharska mosque has been completely destroyed bya blast. In photos taken in Sept.1992, the toppled minaret of the mosque, with itsdistinctive covering of decorative bricks, can be seen lying atop the rubble of themosque, next to the imam's house. The imam's house has part of its roof smashed in.The conical metal cap of the minaret can be seen lying on the ground in front of theimam's house,By the time of the author's field survey visit (2002), the building materials had beenremoved and only the bare foundations of the mosque remained at the site, next to theroofless ruin of the imam's house.
Source (Damage Description)
András Riedlmayer, site visit (07/2012), and information andphotos from the Medžlis of the Islamic Community of Prijedor and other sources.
Informant Statement
Before the war, the Donja Puharska mosque was the only mosque in the municipalityof Prijedor that had a dome. According to information in the records of the Medžlis ofthe Islamic Community of Prijedor, the Donja Puharska mosque was blown up at theend of August 1992. Its toppled minaret fell on top of the adjacent imam's house andkilled the imam's son Zikret Kusuran and his wife.
Source (Informant Statement)
Ahmet-efendija Rahmanović, head imam of Prijedor (07/2002), interviewedby András Riedlmayer.
Creative Commons License


This work is licensed under a Creative Commons Attribution-Noncommercial-No Derivative Works 4.0 License.