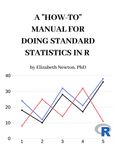 Files
Download Table of Contents and Introduction.pdf (114 KB)
Download Sections 1-6 General R Information.pdf (337 KB)
Download Sections 7-9 Graphs and Summary Statistics.pdf (222 KB)
Download Sections 10-14 Distributions and Critical Values.pdf (389 KB)
Download Sections 15-28 Parametric Methods.pdf (455 KB)
Download Sections 29-38 Non-Parametric Methods.pdf (526 KB)
Download Sections 39-40 Follow-Up Comparisons.pdf (230 KB)
Download Sections 41-45 Effect Sizes.pdf (375 KB)
Download Reference Tables and Bibliography.pdf (313 KB)
Download Notes on Data Sources.pdf (98 KB)
Download Data Files (contains 16 .txt files).zip (10 KB)
Description
This "How To…." Manual is intended to assist the new user in implementing standard statistical methods, both parametric and non-parametric, using R statistical software. Its focus is on R implementation, not statistical theory. It includes the R commands, with examples, for the following: proportion tests, t-tests, ANOVA, variance tests, several correlation measures and regression models, Mann-Whitney-Wilcoxon tests, Kruskal-Wallis tests, chi-squared tests, multiple pairwise comparisons and effect sizes. Basic graphical methods are also illustrated.
Publisher
Fontbonne University
Keywords
Proportion Tests in R, T-Tests in R, ANOVA in R, Variance Tests in R, Correlation in R, Simple Regression in R, Multiple Regression in R, Binary Logistic Regression in R, Mann-Whitney Tests in R, Wilcoxon Tests in R, Kruskal-Wallis Tests in R, Chi-Squared Tests in R, Pairwise Comparisons in R, Effect Sizes in R, Basic Graphs in R, Open-Source Software
Disciplines
Applied Statistics | Statistical Methodology | Statistics and Probability
Department
Math and Computer Science
Recommended Citation
Newton, Elizabeth, "A "How-To" Manual for Doing Standard Statistics in R" (2019). OER Textbooks. 2.
https://griffinshare.fontbonne.edu/oer-books/2
Creative Commons License


This work is licensed under a Creative Commons Attribution-Noncommercial-No Derivative Works 4.0 License.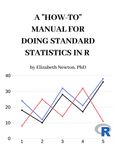 COinS