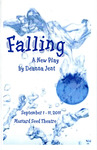 Title
Performance Dates
September 1-11, 2011
Files
Download Press Release, Fontbonne (79 KB)
Download Press Release, Off-Broadway (151 KB)
Download Press Release, American Theatre Critics Association (108 KB)
Download Review, STL Today (91 KB)
Download Review, Riverfront Times (321 KB)
Download Review, St. Louis Magazine (469 KB)
Download Review, Broadway World (276 KB)
Description
A new play about Autism, Marbles and Jelly
Both funny and frightening, this play explores the life of a family caring for an aggressive teen-aged boy with severe autism.
Extreme Parenting by Deanna Jent
I believe that parenting is a struggle and a joy for everyone. Each family has a journey, and none is more or less important. But some journeys are so different, the terrain so unusual, that it warrants reporting. I write from the War Zone of Extreme Parenting. The enemies are many. Sometimes our own children are a danger to themselves, to their siblings, to us. Extreme Parents become soldiers on guard, alert to any eye-shift or noise that might indicate impending aggressiveness. It is by now such an internalized experience that in any location, I am immediately aware of where exits and "safe rooms" are. One mother whose son also has a seizure disorder always knows the locations of glass windows or doors so she can keep him away from potential broken glass. For some of us, it's a good day when the police haven't been called to escort our child off the bus.
Often the enemies are unexpected. Who would think that the word "institution" could be a terrorist? It lives unnoticed as a cultural expectation: "Will he have to be institutionalized?" or "Can't you put him in an institution?"
It's either terrifying or reassuring to think that there is such a place. But the concept of an Institution, whether filled with strait-jackets or soft lighting, is just an idea — a place to put the problems (out of sight, out of mind). In reality, Extreme Parents are Settlers in a New Land, sometimes occupying hostile territory: "We don't want a group home in Our Neighborhood!" or "There's a 3-month wait list for the Crisis Intervention Team."
We live in the reality of a Meanwhile world. There should be more options for our kids, but in the Meanwhile, we find what we can and create what we need. We all want a magic pill, wand or potion, but in the Meanwhile we research available therapies, exchange information about drugs, and try Gluten-Free-Casein-Free diets.
If you are an Extreme Parent, you have your own "war-zone" regulations. If you're not part of the tribe, you know someone who is. You see us as we walk in the mall or as we advocate on the steps of the Capitol building. Your kids are in classes with our kids (at least for art and lunch). We all want the same thing for our families: safety, love, opportunities and respect. But – we can't always get what we want (cue music?). So in the Meanwhile…I wrote a play.
Publisher
Fontbonne University Archives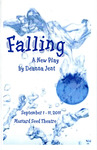 COinS
Rights Statement