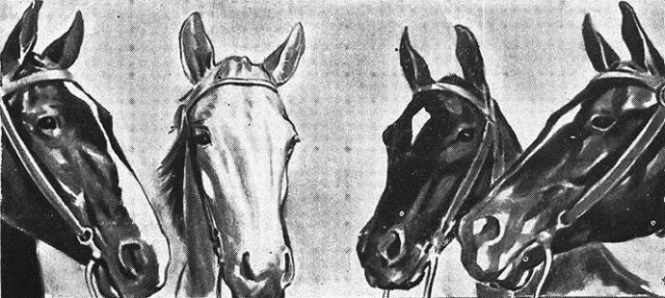 Explore three decades of programs from the spring Fontbonne Horse Show. These programs document an important campus tradition from Fontbonne's early history. The annual event was sponsored by Fontbonne College and St. Joseph's Academy (later the Fontbonne-St. Joseph Horse Show Association) and held at the Missouri Stables Arena at 5200 Berthold Avenue. Over the years, the show grew from a one-day to a three-day event and fostered relationships between students and alumnae at Fontbonne and St. Joseph's Academy.
The run features lists of participants, committee members, ushers, donors, and patrons alongside notices of approved Rules and Regulations, program details, and an official history of the annual event:
The Fontbonne Horse Show, the result of cooperative efforts of students, faculty members, and parents, was presented for the first time in 1934. The show is presented under the joint sponsorship of the Physical Education Departments of Fontbonne College and St. Joseph's Academy. Trophies are awarded in all classes, provision being made for advanced, novice, and beginner riders. However, competition is not the guiding spirit of this enterprise. The Fontbonne Horse Show has a two-fold purpose; to develop high standards of sportsmanship, and to demonstrate the equitation ability of the students participating.
The programs list classes for singles, pairs, and teams-of-four, Hunter and Jumping exhibitions, and categories for three- and five-gaited events. From the beginning, each show featured competitions between Fontbonne and St. Joe's; alumnae vied against one another in flag raids, button and potato races, and Musical Stalls. There aren't generally descriptions included with the event names, so we can just imagine the fun that came with Pole Weaving, Ribbon Raids, Marshmallow Races, and Comical Turnout ('most original and comical turnout will be adjudged winner'). Saddle and bridal contests and Hackney Horse and Pony displays show up as well. Later years saw the introduction of more community-focused fun, including brother-sister and parent-daughter trials, pie-eating contests, and events for both elementary and high school riders.
If you're looking for a good name for horse (or a cat or a plant), the horses' names are listed beginning in 1951. The collection is full of gems like Boston Coffee, Merry Bells, Jiminy Cricket, Reverie Zombie, Irish Wake, September Romance, Mother Goose, What-Not, and Count to Ten. And the pages of advertisements offer their own snapshot of mid-century St. Louis history on every page.
N.B. The items in these collections reflect the attitudes, perspectives, and beliefs of different times. Neither the library nor the university endorses the views expressed in these collections, some of which may contain materials offensive to some readers. If you have questions or concerns about anything in the repository, please contact us: griffinshare@fontbonne.edu / 314-889-1417.
Printing is not supported at the primary Gallery Thumbnail page. Please first navigate to a specific Image before printing.