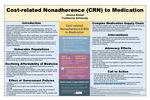 Faculty Advisor
Elizabeth Cowie
Description
Cost-related nonadherence (CRN) to medication is a growing health-care issue in the United States. CRN to medication is usually defined as skipping doses, taking less medication than prescribed, and/or delaying medication use due to costs. Among 11 developed countries, the United States' CRN to medication is the highest at 17 percent. When individuals experience CRN to medication, they become vulnerable to additional adverse health outcomes, which may lead to more frequent hospitalizations, emergency department visits, and, in the worst-case scenario, death. Mitigation of CRN to medicine may lead to a reduction in patients' use of health-care services by improving patients' overall health and preventing hospital admissions.
Presentation Type
Poster Presentation
Department
Family and Consumer Sciences
Degree Name
Bachelor of Science (BS)
Degree Program
Health Education and Promotion
Disciplines
Communication Sciences and Disorders | Health Economics | Public Affairs, Public Policy and Public Administration | Social Statistics
Publication Date
Spring 2020
Publisher
Fontbonne University Archives
Recommended Citation
Kassel, Jessica, "Cost-Related Nonadherence (CRN) to Medication" (2020). FCS Advocacy Posters. 7.
https://griffinshare.fontbonne.edu/fcs-posters-2020/7
Creative Commons License


This work is licensed under a Creative Commons Attribution-Noncommercial-No Derivative Works 4.0 License.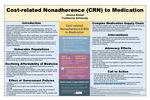 COinS