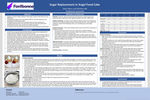 Faculty Advisor
Jamie Daugherty
Description
Diabetes is a chronic medical condition in which sugar, or glucose, levels build up in your bloodstream. Controlling blood sugar levels can be especially difficult, specifically adjusting to new eating habits and limiting sugar intake. The hypothesis of this study is that by replacing sugar with sugar substitutes, an acceptable angel food cake can be made with an improved nutritional profile (lower carbohydrate and lower sugar content) for the diabetic population.  The researchers feel they met their goal based upon scorecard data and overall outcome.
Presentation Type
Poster Presentation
Department
Family and Consumer Sciences
Degree Name
Bachelor of Science (BS)
Publication Date
Fall 2020
Recommended Citation
Hilt, Shirlene and Beers, Mary, "Sugar Replacement in Angel Food Cake" (2020). FCS Experimental Foods Posters. 4.
https://griffinshare.fontbonne.edu/fcs-424-2020/4
Creative Commons License


This work is licensed under a Creative Commons Attribution-Noncommercial-Share Alike 4.0 License.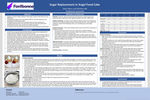 COinS