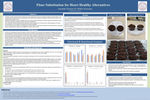 Faculty Advisor
Jamie Daugherty
Description
The effects of highly processed foods contained within the average American diet has dramatically impacted, individual health can be observed with the increased incidence of cardiovascular and heart disease, elevated percentages of total daily fat consumption, and unhealthy high cholesterol levels.
Researchers attempted to create a chocolate muffin with increased nutritional benefit with reduced sugar and carbohydrate count for those with cardiovascular disease and satisfy the needs of heart healthy diet.
Four comparison trials were conducted which matched a control, buckwheat flour, and an almond flour substitute against one another with manipulation of flour additives for palpability and overall acceptability.
Further research for improving texture and appearance would be beneficial. Additional consideration for fat substitutions to manipulate texture using applesauce of yogurt versus vegetable oil has been shown to help.
Presentation Type
Poster Presentation
Department
Family and Consumer Sciences
Degree Name
Bachelor of Science (BS)
Disciplines
Family, Life Course, and Society | Food Science | Food Studies
Publication Date
Fall 2020
Publisher
Fontbonne University Archives
Recommended Citation
Thomas, Amanda and Scorsone, Oshkie, "Flour Substitution for Heart Healthy Alternatives" (2020). 2020 Research Posters. 3.
https://griffinshare.fontbonne.edu/fcs-424-2020/3
Creative Commons License


This work is licensed under a Creative Commons Attribution-Noncommercial-No Derivative Works 4.0 License.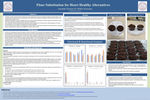 COinS