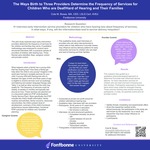 Faculty Advisor
Jamie Doronkin | PhD
Description
There is currently no protocol on determining the frequency of services for children ages birth to three with hearing loss. However, Geers, Moog & Rudge, (2019) found that the higher the dose of early intervention services the higher language and reading outcomes. I felt it was important to gather information from other providers in a program to examine how they determine the frequency of services for the children and families they serve. When making these decisions, are they looking at type and degree of hearing loss, age of diagnosis, age of amplification, distance from the school, parental education, or other factors?
This poster will present the findings of the study, which includes interviews with providers using an interview guide that had the following questions: (1) Tell me about your current caseload (2) In what areas of your current state do you serve families? (3) How many families are currently on your caseload? (4) What guides your decision when determining the frequency of services your families receive? (5) Do you see your families more than what the IFSP recommends? (6) Is there anything that I missed that you would like to share?
Presentation Type
Poster Presentation
Publisher
Fontbonne University Archives
Recommended Citation
Bosas, Cole M., "The Ways Birth to Three Providers Determine the Frequency of Services for Children Who are Deaf/Hard of Hearing and Their Families" (2020). 2020 Projects. 4.
https://griffinshare.fontbonne.edu/edd-projects-2020/4
Creative Commons License


This work is licensed under a Creative Commons Attribution-Noncommercial-No Derivative Works 4.0 License.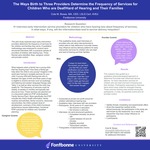 Included in
COinS