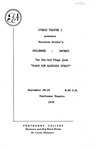 Title
Performance Dates
September 28-29, 1970
Location
Fontbonne Theatre
Director
Joan Simms; Judy Radin
Description
Studio Theatre I
Childhood, Infancy. Two One-Act Plays from "Plays for Bleecker Street"
Thornton Wilder has been acclaimed one of the most significant playwrights of our time by audiences and critics alike. Born in Madison, Wisconsin , on April 17, 1897, he was the son of an American Consul General.
Educated at Oberlin College and Yale University, he is a three-time winner of the Pulitzer Prize for Literature. He merited his first honors with the publication of his second novel, The Bridge of San Luis Rey, in 1928, his second prize for Our Town in 1938, and his third for The Skin of Our Teeth in 1943.
After too long a vacation, he returned to the American Theatre through the off-Broadway entrance. His Plays for Bleecker Street consist of three new short pieces.
Infancy, the first of two from a projected cycle of seven, based upon the seven ages of man, features two grown-up actors playing babies in perambulators. We are to understand that their talk is intelligible to the audience and to each other, but not to their nurse- maids. And from their straining interchanges we get a sense of infancy as a time of frantic receptivity to the nature of the world. And it is Mr. Wilder's lament that adults deliberately exert every effort to slow down their learning processes and even subvert it by feeding them unimportant information which will exhaust .hem into quietude.
Childhood, from the same cycle, is also a glimpsing thing. In this episode, we meet three children torn between their urge to have the freedom and adventure they believe they might have if their parents should suddenly die, and their need for the security and comfort a family provides. Somewhat' like Emily in Our Town, one of the parents asks to be an invisible witness to his children's fantasy game. It turns out to be a bus ride by three new orphans during which their sought-after adventures become more and more frightening, increasing their need to appreciate their parents, with, of course, strong reservations. By the end of the play the children have abandoned their excursion to return home.
Publisher
Fontbonne University Archives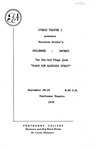 COinS
Rights Statement