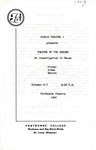 Performance Dates
October 6-7, 1969
Location
Fontbonne Theatre
Director
Cathy Nieland; Judy Nagle
Description
Studio Theatre I
Notes on the Absurd
The Theatre of the Absurd tends toward a radical devaluation of language, toward a poetry that is to emerge from the concrete and objectified images of the stage itself. The element of language still plays an important, yet subordinate, part in this conception, but what happens on the stage transcends, and often contradicts, the words spoken by the characters.
The Theatre of the Absurd is part of the "anti- literary" movement of our time, which has found its expression in abstract painting, with its rejection of "literary" elements in pictures or in the "new novel!"
This theatre of the Absurd has renounced arguing about the absurdity of the. human condition; it merely presents it in being -- that is, in terms of concrete stage images of the absurdity of existence. This is the difference between the approach of the philosopher and that of the poet; the difference, to take an example from another sphere, between the idea of God in the works of Thomas Aquinas or Spinoza and the intuition of God in those of St. John of the Cross or Meister Eckhart - the difference between theory and experience.
The Theatre of the Absured
by Pinter, Albee, Bowles
Publisher
Fontbonne University Archives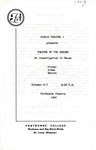 COinS
Rights Statement