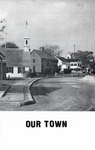 Title
Performance Dates
April 23, 24, 25, 26, 1967
Location
Fontbonne Theatre
Description
The Playwright
Thornton Wilder has been acclaimed one of the most significant playwrights of our time by audiences and critics alike. Born in Madison, Wisconsin, on April 17, 1897, he was the son of an American Consul General. His life has been the American Experience greatly exaggerated.
Educated at Oberlin College and Yale University, Thornton Wilder is a three-time winner of the Pulitzer Prize for Literature. He merited his first honors with the publication of his second novel, The Bridge of San Luis Rey, in 1928. More recently Mr. Wilder's latest novel, The Eight Day, has become a best-seller.
For some time Mr. Wilder has been at work on a double cycle of fourteen plays which is to be the culmination of his artistic and philosophical thought. Two of these plays, Infancy and Someone From Assisi, were produced at Fontbonne in 1966. His success as a playwright, however, was won by Our Town and The Skin of Our Teeth. It was these two plays that merited him two more Pulitzer Prizes. Another great success is The Matchmaker, which has been made into the widely popular musical, Hello Dolly.
The author, himself, stated that Our Town is not offered as a picture of life in a New Hampshire town or as a speculation on life after death. It is, in fact, an attempt to find a value above all price for the smallest events of our daily life.
As a dramatist, Mr. Wilder considers the theatre the greatest of all art forms. As a scholar, he is interested primarily in the facts. As a humanist, he is keenly aware of all the small details of life. He feels that it is imperative that the audience believe what they see on stage and that they are able to relate to the action. Therefore, he strives to recreate, in detail, the simplest things that form the structure of life. This is mind, Thornton Wilder once described his greatest ambition in life "...to be the Poet Laureate of Coney Island."
Publisher
Fontbonne University Archives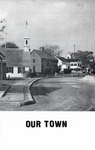 COinS
Rights Statement