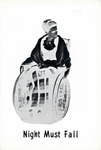 Title
Performance Dates
Feb 13, 14, 15, 16
Location
Fontbonne Theatre
Files
Description
About the Playwright
For more than thirty years British and American theatre and motion picture audiences have seen Emlyn Williams, the Welsh actor, who is also a playwright and a director. Beginning as an actor in a small part in a London stage production in 1927, Williams the next year had his first play produced, and five years later made his first screen appearance. By 1935 he was acting and directing his own plays and since then has often functioned simultaneously in these three capacities, both on the stage and on the screen. Of his twenty some plays, Night Must Fall and The Corn is Green, the latter an autobiographical account of the author's early years in a Welsh mining community, are the best known to American audiences.
In May 1935, with the warm reception given to his play Night Must Fall and his performance in it, Williams' reputation as both actor and playwright was firmly established. The creation of Danny, the psychopathic bellhop, had its origin in a chance attendance by Williams at the appeal trial of a murderer whose nonchalance was notorious. The play ran for a year in London and then went to New York in September 1936 where critics acclaimed the play and the actor.
Perhaps the most enthusiastic praise of Williams as an actor came from Walter Kerr, New York drama critic. Referring to Emlyn Williams' solo performance of the works of Charles Dickens, Mr. Kerr said: "Williams is an actor of striking range and great virtuosity as well, and the result is a combination of personal charm and adroit theatrical mimicry which rivets audience attention to him for two solid hours and which, miraculously, becomes increasingly compelling as it goes along."
-Current Biography
Publisher
Fontbonne University Archives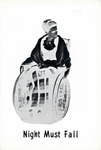 COinS
Rights Statement