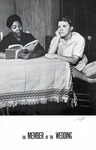 Performance Dates
February 8, 9, 10, 11, 1968
Description
Fontbonne Theatre
"What is a Play"
"First, I doubt the wisdom of arbitrary qualifications when an art form is concerned; and, secondly, my creative life has done nothing to equip me for formal aesthetic evaluations. For the writing of prose or poems is a wandering creation. By that I mean that a given passage or paragraph draws astray the imagination with sensual allusions, nuances of feelings, vibrations of memory or desire. The function of the artist is to execute his own indigenous vision, and having done that, to keep faith with this vision. The parallel function of a work of art is to be communicable. Of what value is a creation that cannot be shared? At the same time , any form of art can only develop by means of single mutations by individual creators. Any growing thing must go through awkward stages.
The Member of the Wedding is unconventional because it is not a literal kind of play. It is an inward play and the conflicts are inward conflicts. The antagonist is not personified, but is a human condition of life; the sense of moral isolation. In this respect The Member of the Wedding has an affinity with classical plays where the protagonist and antagonist are [not] present in palpable conflict on the stage. The play has other abstract values; it is concerned with the weight of time, the hazard of human existence, bolts of chance. The reaction of the characters to these abstract phenomena projects the movement of the play.
Some observers have wondered if any drama as unconventional as this should be called a play. I cannot comment on that . I only know that The Member of the Wedding is a vision that a number of artists have realized with fidelity and love."
Carson McCullers
Theatre Arts 1950
Publisher
Fontbonne University Archives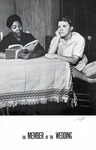 COinS
Rights Statement