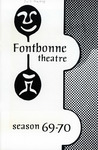 Title
Performance Dates
November 20. 21, 22, 23, 1969
Description
Fontbonne Theatre
About the Playwright
Ionesco still has a vivid recollection of the day when, at the age of four, he asked his mother if everybody had to die. The fear and anguish that her reply provoked in him have never really left him and the idea of death has been one of his most constant preoccupations and one of the principal themes in his works. Death is the only reality in Exit the King and the play is unique among Ionesco's full-length works in its single-minded exploration of this one intolerable fact. The collapse of the kingdom of which each one of us is king is the image Ionesco has chosen to convey the idea of a man's death, and the play is built entirely round this central metaphor.
. . . The language of Exit The King marks a striking departure from the nonsense dialogues, the savage parody and cliché and platitude and the frenzied rhythms that are typical of the earlier plays. Here the rhythm of the dialogue is solemn, even stately, the imagery is lyrical and more consciously literary than anything he had written before, and there are passages of lamentation and incantation written in a style reminiscent of classical stichomythia.
The wild farce of earlier plays has also been rejected: Ionesco uses a gentle, whimsical style of humor to create a counterpoint to the seriousness of the subject matter. Indeed, this contrast between the enormity of the occasion and the whimsicality of its treatment is one of the main sources of dramatic tension in the play.
Program Notes - Donald Watson
Publisher
Fontbonne University Archives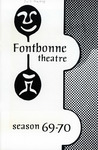 COinS