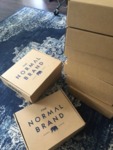 Title
Files
Download Transformation Artifact: Gothic Romance Display [PDF slideshow] (121.2 MB)
Download Leadership Artifact: CliftonStrengths Inventory [PDF] (164 KB)
Download Leadership Artifact: Missouri Ballot Extravaganza [PDF slideshow] (145 KB)
Download Occupation Artifact: Local Social Media Influencers | The Normal Brand [PDF] (43.2 MB)
Download Service + Social Justice Artifact: Fontbonne Day 2019 [Photos] (202 KB)
Introduction
When I look back at college, it seems crazy how fast it went by. I remember the same being said about high school, and that went by fast as well. It's a bit surreal to experience that whirlwind again though, as you feel that during the time it will go on forever. However, I am now at the end of my college career and the TELOS Portfolio course has prompted me to reflect deeply on my time here. This has been an extremely interesting experience as I have had to reflect on four years of my life.
When I look back to when I started in college, I had many goals and aspirations. Many of these included just being involved on campus, seeking out leadership opportunities, and really figuring out if the major I picked (fashion merchandising) was right for me. I am glad to say that after four years, I was able to get involved on campus, became an RA, and even added a global studies minor. There were many stressful days and nights, time consuming projects, and just the ups and downs of life in general. However, my time at Fontbonne has been one of the best experiences of my life and I am extremely grateful for it.
This portfolio is filled with many projects and essays I have worked on while at Fontbonne. While there are many more that probably deserve recognition and could be added to it, I feel that the experiences I've included reflect my transformation, service, occupation, leadership, and explorations at Fontbonne. They are reflective of things I have worked on within my major, my minor, and things outside of academics. This portfolio is a comprehensive reflection of my time here and what I have to show for it. These projects/reflections show my growth in college and showcase how I have learned, adapted, and expanded on my worldview over the last four years. I hope you take time to look at each one, as they fully represent my college career and how I will continue to grow after I graduate.
Department
Fashion Merchandising
Degree Name
Bachelor of Arts (BA)
Publication Date
Spring 2020
Publisher
Fontbonne University Archives
Creative Commons License


This work is licensed under a Creative Commons Attribution-Noncommercial-No Derivative Works 4.0 License.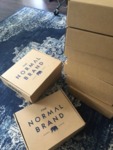 COinS