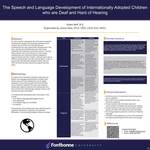 Faculty Advisor
Jenna Voss | PhD, CED, LSLS Cert AVEd
Description
In order to better understand how international adoption influences the speech and language development of children who are D/HH and how parents and professionals can help support their development in this area, parents and professionals were interviewed regarding their experience with these children. Through their answers and current literature on the subject, professionals can implement several strategies to support parents and their children. Although each case is different, professionals can take several steps in order to ensure that internationally adopted children who are D/HH and their families receive the support that they need.
Keywords
International Adoption
Disciplines
Communication Sciences and Disorders | Speech Pathology and Audiology
Presentation Type
Poster Presentation
Department
Communication Disorders and Deaf Education
College
College of Education and Allied Health
Degree Name
Master of Science (MS)
Degree Program
Speech-Language Pathology
Publisher
Fontbonne University Archives
Recommended Citation
Neff, Adam, "The Speech and Language Development of Internationally Adopted Children Who are Deaf and Hard of Hearing" (2020). 2020 SLP Posters. 18.
https://griffinshare.fontbonne.edu/slp-posters/18
Creative Commons License


This work is licensed under a Creative Commons Attribution-Noncommercial-No Derivative Works 4.0 License.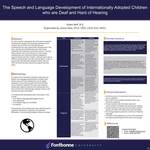 Included in
COinS