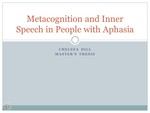 Faculty Advisor
Amanda Eaton | PhD, CCC-SLP
Description
Meta-analysis study created to analyze correlations between Aphasia Quotient (AQ) scores received on the Western Aphasia Battery-Revised (WAB-R) and the test performance on inner speech abilities in those with aphasia. 20 participants with aphasia (11 conduction and 9 anomic aphasia) Computer program designed to target inner speech abilities and metacognitive analysis of personal performance.
Results indicated there was no correlation between the AQ scores of those with conduction aphasia and their performance on inner speech testing; however, there was a strong correlation between AQ scores and the performance on inner speech testing among those with anomic aphasia
Presentation Type
Poster Presentation
Department
Communication Disorders and Deaf Education
Degree Name
Master of Science (MS)
Degree Program
Speech-Language Pathology
Publisher
Fontbonne University Archives
Disciplines
Communication Sciences and Disorders | Speech and Hearing Science | Speech Pathology and Audiology
Recommended Citation
Dill, Chelsea, "Metacognition and Inner Speech in People with Aphasia" (2020). Speech-Language Pathology Posters. 16.
https://griffinshare.fontbonne.edu/slp-posters/16
Creative Commons License


This work is licensed under a Creative Commons Attribution-Noncommercial-Share Alike 4.0 License.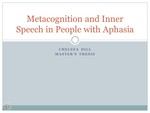 COinS