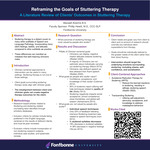 Faculty Advisor
Phillip Hewitt
Description
Stuttering therapy is a distant cousin to many other subfields of Speech and Language Pathology. Incorporating many client feelings, beliefs, and attitudes compared to other subfields we practice.
Keywords
Stuttering, Stuttering therapy, Quality of life, Avoidance-Reduction Therapy for Stuttering, Transcending Stuttering therapy
Disciplines
Communication Sciences and Disorders | Speech and Hearing Science | Speech Pathology and Audiology
References
Adriaensens, S., Beyers, W., Struyf, E. (2015). Impact of stuttering severity on adolescents' domain-specific and general self-esteem through cognitive and emotional mediating processes. Journay of Communication Disorders, 58, 43-57.
Beilby, J. M., Byrnes, M. L., & Yaruss, J. S. (2012). Acceptance and commitment therapy for adults who stutter: Psychosocial adjustment and speech fluency. Journal of Fluency Disorders, 37(4), 289-299.
Coleman, C. E., & Quesal, R. W. Yaruss, J. S. (2012). Stuttering in school-age children: A comprehensive approach to treatment.
Irani, F., Gabel, R., Daniels, D., & Hughes, S. (2012). The long term effectiveness of intensive stuttering therapy: A mixed methods study. Journal of fluency disorders, 37(3), 164-178.
Maviş, İ., Louis, K. O. S., Özdemir, S., & Toğram, B. (2013). Attitudes of Turkish speech and language therapists toward stuttering. Journal of fluency disorders, 38(2), 157-170.
Sisskin, V., & Goldstein, B. (2022, March). Avoidance reduction therapy for school-age children who stutter. In Seminars in Speech and Language (Vol. 43, No. 02, pp. 147-160). Thieme Medical Publishers, Inc..
Walden, T. A., Lesner, T. A., & Jones, R. M. (2020). Is what I think I think really what I think? Implicit and explicit attitudes toward stuttering among practicing speech-language pathologists. Journal of communication disorders, 83, 105965.
Yaruss, J. S. (2010). Assessing quality of life in stuttering treatment outcomes research. Journal of fluency disorders, 35(3), 190-202.
Presentation Type
Poster Presentation
College
College of Education and Allied Health
Department
Communication Disorders and Deaf Education
Degree Name
Master of Science (MS)
Degree Program
Speech-Language Pathology
Publication Date
Spring 2023
Publisher
Fontbonne University Archives
Recommended Citation
Atzemis, Maxwell, "Reframing the Goals of Stuttering Therapy" (2023). 2023 SLP Posters. 7.
https://griffinshare.fontbonne.edu/slp-posters-2023/7
Creative Commons License


This work is licensed under a Creative Commons Attribution-Noncommercial-No Derivative Works 4.0 License.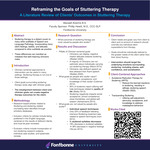 COinS