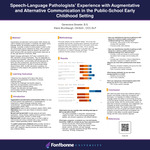 Faculty Advisor
Klaire Brumbaugh
Description
Augmentative and alternative communication (AAC) devices are used to facilitate communication in individuals with speech and/or language deficits. By facilitating receptive and expressive language, it provides a means of communication in which a child can communicate and be understood by others. AAC is growing among the early childhood setting as research has shown that earlier access to AAC can improve communication skills even at an early age (Branson & Demchak, 2009). Speech-language pathologists (SLP) play a substantial role in AAC intervention among preschoolers. They are responsible for conducting the evaluation, selecting the appropriate AAC method, providing intervention, communicating with and educating the family and other professionals, and ensuring the child has a naturalistic environment to use AAC to communicate (Singh, Diong & Kamal, 2020). As AAC intervention is growing, it is important to further research AAC practices directly from SLPs themselves.
Keywords
Augmentative and alternative communication, Communication, Speech deficit, Language deficit, Early childhood setting, Public school
Disciplines
Communication Sciences and Disorders | Speech and Hearing Science | Speech Pathology and Audiology
Presentation Type
Poster Presentation
College
College of Education and Allied Health
Department
Communication Disorders and Deaf Education
Degree Name
Master of Science (MS)
Degree Program
Speech-Language Pathology
Publication Date
Spring 2023
Publisher
Fontbonne University Archives
Recommended Citation
Streeter, Genevieve, "Speech-Language Pathologists' Experience with Augmentative and Alternative Communication in the Public-School Early Childhood Setting" (2023). 2023 SLP Posters. 46.
https://griffinshare.fontbonne.edu/slp-posters-2023/46
Creative Commons License


This work is licensed under a Creative Commons Attribution-Noncommercial-No Derivative Works 4.0 License.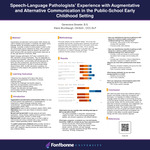 COinS