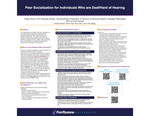 Faculty Advisor
Jenna Voss
Files
Description
Peer relationships are needed for positive development, but children who are deaf/hard of hearing (DHH) experience difficulties when socializing with their typically hearing peers. This poster will provide an overview of various supports that can be put in place to facilitate socialization for DHH children with their hearing peers. Opportunities for practitioners and parents to promote peer socialization will be provided.
Keywords
Deaf, Hard of hearing, Deaf/Hard of hearing, DHH, Deafness, Peer relationships, Peer socialization, Socialization, Children
Disciplines
Communication Sciences and Disorders | Speech and Hearing Science | Speech Pathology and Audiology
References
Batten, G., Oakes, P. M., Alexander, T. (2014). Factors associated with social interactions between deaf children and their hearing peers: A systematic literature review. The Journal of Deaf Studies and Deaf Education, 19(3), 285-302. https://doi.org/10.1093/deafed/ent052
Bobzien, J., Richels, C., Raver, S. A., Hester, P., Browning, E., Morin, L. (2013). An observational study of social communication skills in eight preschoolers with and without hearing loss during cooperative play. Early Childhood education Journal, 42, 339-346. https://doi.org/10.1007/s10643-012-0561-6
Bowen, S. K. (2008). Coenrollment for students who are deaf or hard of hearing: Friendship patterns and social interactions. American Annals of the Deaf, 153(3), 285-293. https://doi.org/10.1353/aad.0.0052
DeLuzio, J., Girolametto, L. (2011). Peer interactions of preschool children with and without hearing loss. Journal of Speech, Language, and Hearing Research, 54(4), 1197-1210. https://doi.org/10.1044/1092-4388(2010/10-0099)
Lasanen, M., Määttä, K., Uusiautti, S. (2017). 'I am not alone' - An ethnographic research on the peer support among northern-Finnish children with hearing loss. Early Child Development and Care, 189(7), 1203-1218. https://doi.org/10.1080/03004430.2017.1371704
Lenihan, S. Ed. (2020). Preparing to Teach, Committing to Learn: An Introduction to Educating Children Who Are Deaf/Hard of Hearing. eBook. https://www.infanthearing.org/ebook-educating-children-dhh/
Marwah, A. (2020, November 10). Socialization Skills for Deaf and Hard of Hearing Children [Webinar]. Early Hearing Detection & Intervention. http://www.infanthearing.org/webinars/2020/socialization-skills-for-dhh-children.html
Sharpe, G., Phillips, R. L., Davis, A., Dornan, D. (2017). Exploring the impact of spoken language on social inclusion for children with hearing loss in listening and spoken language early intervention. BMC Pediatrics, 115(2), 153-181. https://doi.10.1186/s12887-017-0823-y
Toe, D., Paatsch, L. E. (2013). The conversational skills of school-aged children with cochlear implants. Cochlear Implants International, 14(2), 67-79. https://doi.org/10.1179/1754762812Y.0000000002
Wheeler, L. R., Tharpe, A. M. (2020). Young children's attitudes toward peers who wear hearing aids. American Journal of Audiology, 29(2), 110-119. https://doi.org/10.1044/2019_AJA-19-00082
Zheng, Y., Caissie, R., Comeau, M. (2001). Perception of hearing difficulties by adolescents who are deaf or hard of hearing and their parents, teachers, and peers with normal hearing. The Volta Review, 103(3).
Presentation Type
Poster Presentation
College
College of Education and Allied Health
Department
Communication Disorders and Deaf Education
Degree Name
Master of Science (MS)
Degree Program
Speech-Language Pathology
Publication Date
Spring 2023
Publisher
Fontbonne University Archives
Recommended Citation
Keune, Alyssa, "Peer Socialization for Individuals Who are Deaf/Hard of Hearing" (2023). 2023 SLP Posters. 27.
https://griffinshare.fontbonne.edu/slp-posters-2023/27
Creative Commons License


This work is licensed under a Creative Commons Attribution-Noncommercial-No Derivative Works 4.0 License.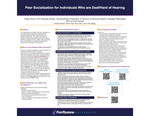 COinS